The Market on Monarch Way
It's a sunny, warm Saturday afternoon. Kids kick a soccer ball back and forth in the street, and a light breeze keeps it from being swelteringly hot. 
When I first met Christine Harrell she was sweet and forthcoming — asking me questions instead of the other way around. 'What am I studying? Why ODU?' 
Her kids are the ones playing in the cordoned off road — she's a self proclaimed soccer mom. 
Harrell is a mother and the founder of Equinox Coffee and Apothecafe' Botanicals. She's also the co-creator of a non-profit yoga and a nonviolent communication program taught in prisons. Harrell started all of these ventures with her husband, Ty Harrell, but describes her volunteer position at the Market as "kind of the one woman show." Her husband came up with the idea for the Market, but it has become her baby. She figures out logistics around the vendors, street closures, and food, while her husband focuses on their businesses.  
The Market on Monarch Way is a community market that operates in Brock Commons, located at the intersection of Monarch Way and West 47th Street. It came to fruition in April of 2021, during the pandemic. However,  as the Market is outdoors, it is nearing the end of its season. Harrell hopes to see it open again in the spring, as the Market's final scheduled date is November 20. It operates every Saturday until then, from 4 p.m. to 8 p.m.   
Unlike a lot of markets, the Market on Monarch Way operates without contracts and only charges a $20 operating fee for booths (nonprofits are free). 
"Community shouldn't [cost] an arm and a leg," said Harrell. "The money that we get from here pays for the street closures. Always trying to put it back into community is very huge for me and my husband." 
ODU alumni have held booths, and so have ODU students, teenagers, and children hosting with their parents. 
To many of the vendors, both community and family are extremely important. 
For Jillian Smith, founder of J. Loretta, her involvement at the Market was a combination of factors. "Facebook, plus my love for cosmetics, plus my daughter's college — it all came together," Smith said. Facebook was where she discovered the Market. 
"The company's name is J. Loretta and is named after my mom, who was Julie Loretta. Her favorite color growing up was like this orangey-red type of lipstick. It's something that always stuck with me, so I decided one day, you know what, let me just try and make my own," said Smith. "And also, being a darker skinned woman, sometimes it's harder to find things that look good on you, so I was just like: you know what? I'm going to make my own."
Smith makes all of the cosmetics herself, and her mother and sister help to create the packaging. 
"So the love of my mom's look, and then bringing in my love of cosmetics, I just meshed everything together and that's how it came about," said Smith. She's been making cosmetics for two years and describes it as a "forever thing." 
"I definitely am not going to stop because my mom will not allow me to possibly [consider] it," Smith said, "it definitely is a forever thing for me." 
ODU student Bree Ogletree has a small business on Instagram where they sell candles and crystals. Her booth at the Market is one of her first physical events.  Instagram is their primary focus, and is where she is accepting orders. Their website is currently under development. 
Her profitable crystal business began during COVID. 
"When COVID happened, it really gave me time to sit down, and concentrate on what's really important and what really matters, which is my friends and my family," Ogletree said. "I couldn't wrap my mind around what was going on with COVID, I just needed something else to believe in."
And that something was crystals, resulting in their quickly growing crystal collection. 
"The amount of money I spend on crystals — don't tell my mom," Ogletree says as her best friend, who is accompanying her, laughs.  
"All the crystals are authentically sourced," they tell me, and with each purchase she's pressing complimentary crystals into hands. 
Another vendor, Christina Huger, runs the Min Collection. Originally, Huger started making T-shirts for herself because she found it hard to find pieces that fit her. From that, she transitioned to the jewelry her booth sells, saying she got to a point where she didn't have the money to order T-shirts and went "let's make jewelry." 
Huger doesn't have an online store, or even business cards. 
"My main focus is individuality and bringing something simple, minimalist, at an inexpensive price. I don't mass produce anything," she said. "Because I want people to feel that they have the only one, or I make only five of these and never make them again, because I don't even remember what they look like."
One of Huger's favorite pieces that she has made is a silicone bracelet. On one side, it says "HUMAN". On the inside, it says "Change the world by being yourself".
"I'm very big on being human," Huger said. "Sometimes we tend to forget that we're all human, the way we talk to each other, the way we treat each other."
She enjoys doing meaningful and random events — which is what brought her to the Market.
"I thought it was a good opportunity to bring my business to ODU students. When you're a student, you don't have the most money in the world. It's an inexpensive way for self expression," she said. "You may be the only person on campus with one of these bracelets."
Christine Harrell still seems to look upon the Market with a sense of awe towards the success of the unique event she founded and runs.
"Having the first year, and having people just come, it's awesome, because you see the potential and growth of it," Harrell said. "Really, the Market was only supposed to be a side gig for me, and then it became like, 'oh my god, people really love it.' I'm just very thankful how the community is very welcoming to this." 
But for Harrell, it always comes back down to community. 
"When I think of farmers markets I think of community," Harrell said."I think of family, I think of just having fun on a Saturday, where we'll have buskers, sometimes we'll have music. There's not a college out here that has its own market."
Leave a Comment
About the Contributor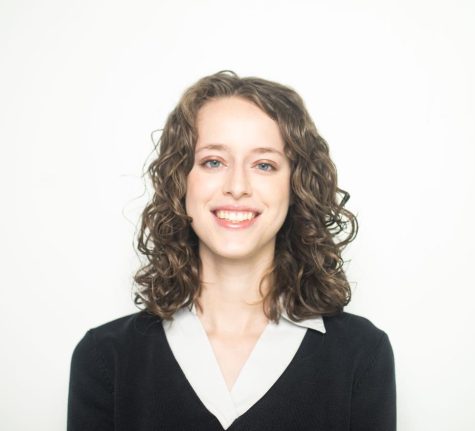 Sydney Haulenbeek, Editor in Chief
Sydney Haulenbeek is an English major and senior, graduating in May of 2023. Before becoming the Editor in Chief of the Mace & Crown she worked as...