Punk Rockers and Metalheads Gather for Gwar at the NorVa
Content warning: This concert review discusses [fake] blood, violence, and a parodied human sacrifice.
Gwar is a band that originally formed in Richmond, Virginia in the 80s. The band originally started as a joke but became a parody band that criticizes political leaders and pop culture. Gwar is unapologetic and no stranger to controversy, with a backstory about them being a band of aliens exiled to Earth who hate humans and the planet. Gwar and its fanbase has always understood that everything is done for fun, especially when it comes to sacrificing celebrities and presidents on stage. Band members have said that it serves as an outlet for all the negativity and hate that happens in the real world.
This legendary metal act came to the NorVa on October 28 to rain blood all over their loyal fan base. The loyal Gwar fan base, proudly carrying the moniker "Scumdogs", were all united in wearing white to prepare for a festive bloodbath. It's not just adults who have an attachment to the unapologetic band. In the audience, there was a family with young kids completely dressed in white. For them, Gwar is a longtime family tradition and they always come wearing white only to walk out wearing red. Gwar's iconic parodies of pop culture figures, human sacrifices, and over-the-top cartoonist violence has been a driving force for their popularity. For the NorVa concert, fans gathered for a lineup featuring EyeHateGod and Napalm Death.
Hailing from New Orleans, EyeHateGod was the first band to play. The lights dimmed as they emerged onto the stage shrouded in almost complete darkness. They immediately set the tone with feedback loudly ringing throughout the venue. The band proceeded to play the title track from their album, "Take As Needed For Pain." The performance was engrossing, and it felt more like watching an angry, rookie band in an underground bar than the typical, high-dollar, polished group you would expect to see in a professional venue.
The band accurately portrayed anger, angst, and adolescent nihilism with their slow, gritty, blues-style metal.
The next band performing? Grindcore pioneers Napalm Death, coming all the way from Birmingham, England. The trio, all geared up and ready, walked up on stage and ripped through the air with their brutal sound. Funny enough, they kicked their setlist off with "Silence is Deafening". The show went on, barely losing momentum, and gave a good hour's worth of what can only be described as unfiltered auditory assault. Lead singer Barney Greenway is an excellent frontman and would often include social or political commentary pertaining to the songs they were about to perform. The band concluded the night by playing a cover of a punk anthem by the Dead Kennedys titled, "Nazi Punks F**k Off". These two bands use their broken down, muddy, and unattractive tones and lyricism to the fullest…and people love it.
A procession of people gathered in front of the stage in pure excitement and anticipation.
"War Pigs" blasted through the speakers while the audience sang along to the legendary Black Sabbath song. Shortly after, Techno Destructo (Gwar's arch nemesis character) trudged on stage and proceeded to victoriously announce to the audience about how he took Oderus' life (the band's late original vocalist's character). When the band emerged from the curtains, they started the night extremely well with "Salamanizer" and one of their biggest hits, "Sick of You". The moshpit exploded with energy as soon as the band started playing. The band, originally intending to leave after two songs, gave in to the crowd's vigor with frontman Blothar saying: "Alright, fine, I guess we can stay a little longer."
The rest of the night was filled with entertaining theatrical performances, fights between band members, and social and political parodies. Oh, and fake blood, gallons of it. The audience went crazy whenever the band started showering everyone with blood, purposefully trying to get completely soaked in it. After all, blood stained clothing is an official Gwar badge of honor. By the end of the night, Gwar performed a fan favorite: presidential sacrifice. A parody representation of Joe Biden walked onto the stage and started giving a satirical speech, mocking the politician. The audience was entertained and chuckling at the comedic presentation of our current president. Finally, Blothar pulled out his sword and decapitated him, which caused a thunderous cheer from the crowd. Gwar ended a night with a song describing the band's disgust with humans and planet Earth, adequately titled "F**k This Place".
The experience was unforgettable and unforgiving with its barrage of blood and heavy riffing. A tip for any aspiring visitors of a Gwar concert: wear white!
Leave a Comment
About the Contributor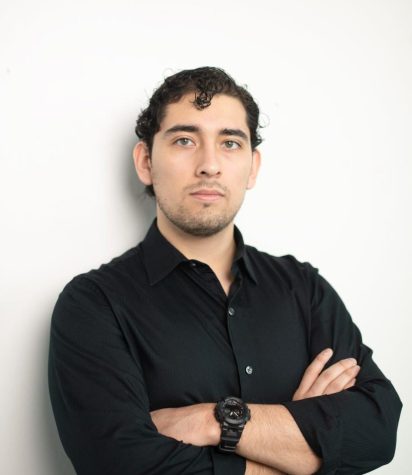 Gabriel Cabello Torres, Technology Editor
Gabriel is the Technology Editor for the Mace and Crown. He is in his junior year at ODU and is currently majoring in Mechanical Engineering Technology....