"The Bacchae" Kicks Off Theater's Contribution to ODU's Themester
Originally published October 18, 2021.
ODU Rep recently concluded their first production of the Themester, "The Bacchae".
Running September 30 through October 9, 2021, "The Bacchae" is considered one of the greatest tragedies ever written. It follows the Greek myth of King Pentheus of Thebes and his mother Agave as they deny the godship of Dionysus and are, sequentially, punished.
The play was funded by the Hellenic Studies Endowment and directed by Deborah Wallace. It was shorter than the standard run time of two hours, with ODU's production only lasting one, but the scenes flowed immersively until the ending, with the students on stage fully enrapturing their audience.
"Deborah Wallace, our director, has really transformed this play," said Eben Bracy, who played Dionysus. "Usually "The Bacchae" takes two hours, and is a very long, very grindy, chewy play but she's made it very choppy, very quick, very interesting, and put a new spin on it. She's doing new things with us that I definitely respect."
Sophomore Eben Bracy had never done theater before, but saw the audition ad in the announcements and was inspired to try out.
"My [favorite] part of my participation has been getting to know all my other cast members, and really getting to express myself in a way that goes beyond linguistics or speech. Getting able to use my body and my physicality to express myself is something I've always wanted to do, and this has been amazing for me. I am really respectful and in admiration of those people who do that. And for the actors, everyone is just so skilled! I've learned so much as a first time performer. Really, everything that I'm doing on stage is just me learning from everyone around me."
He had originally auditioned for the role of Hermes in "Persephone Wept", but was happy with his role when the show lineup changed.
"I'd say I share some common traits with the god Dionysus, you know, bottom line: party. I kind of relate to that a little bit. But what really strikes me about the character – I can kind of understand this a little bit, that he's driven a little bit by envy. Not envy – revenge, you know, he wants people to recognize how great he is. He knows how great he is. And the people who came before him, like his mom, knew how great he was and his dad is really powerful, but no one ever believes in him. So I definitely conceive some kind of relatability about believing in yourself, and your own power, but having no one to support that. I get that," Bracy said.
Despite not having auditioned for the role of Dionysus, ODU's production of "The Bacchae" would be utterly unrecognizable with a different actor in the role, as Bracy embraced it in such a convincing performance.
Mya Correa, who has been acting since she was six, played Agave, Pentheus's mother.
"I kind of relate to her by losing someone that you really care about, because I've lost someone I care about," Correa said. "I can't really relate to killing somebody."
Correa ended the play on a high note, with a mournful transition to Gnarls Barkley's "Crazy," a shift from the Oxford text the play was presented in.
Correa demonstrated masterful control over emotion and tone that made the conclusion of the play tear jerking, which added layers of invaluable sincerity.
The actors' performances were all incredible, as well as the choreography of the Bacchae. The final song created a strange contrast between modern and grecian. It was wonderfully performed, but the dialogue had not been modernized, and was quick paced and not always the easiest to follow. This created a pleasant banter on stage, but sometimes made the story hard to understand. I thought it was an interesting directing decision to keep the script unmodernized but still include such a recognizable song at the end of the play.
Regardless, "The Bacchae" was well cast and well performed, and was an eventful start to ODU's Themester.
If you missed their first production, ODU Rep's next play will be "Intimate Apparel", running from November 10 through the 21st. Tickets are already on sale, available here.
Leave a Comment
About the Contributor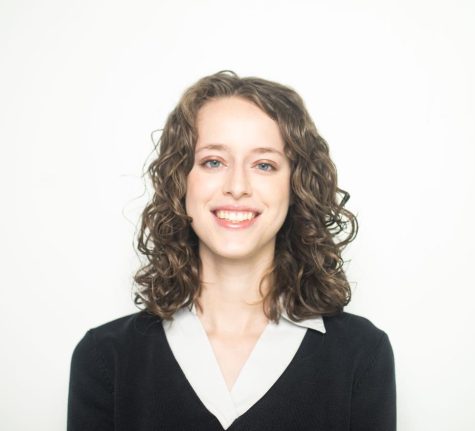 Sydney Haulenbeek, Editor in Chief
Sydney Haulenbeek is an English major and senior, graduating in May of 2023. Before becoming the Editor in Chief of the Mace & Crown she worked as...