"If I Can't Have Love, I Want Power" – Halsey's Album and Film Experience
Originally published September 13, 2021.
It's brutal. It's beautiful. It's honest.
Halsey's new album "If I Can't Have Love, I Want Power" is topping charts. The album reached No. 1 on Billboard's Alternative Albums chart, as well as No. 1 Vinyl Album and No. 1 Top Album Sales, beating out Kanye West's "Donda." It also topped the Tastemaker Albums chart, which tracks sales at independent and small-chain music stores. Released on August 27, it is the songwriter's debut into rock, and a powerful concept album that explores power, sexuality, and childbirth.
Accompanied by a feature film of the same name, "If I Can't Have Love, I Want Power" is carefully crafted and showcases mindful and masterful songwriting. Painfully attentive to detail, the songs range from lyrics that scream frustration to a ballad about Halsey's baby, and an assertive title track, "I am not a woman, I'm a god" that defines the album and smashes expectations out of the water.
The first song on the tracklist, "The Tradition," is a slow gallop into the expectations that the album sets. It begins slower and more haunting than many of the other songs, but still builds into an impactful message about women's empowerment and demonstrates Halsey's musical prowess. It starts off a bit like a ballad, a hum about 'the loneliest girl in town' before bridging off into into lines about assertiveness and reclamation: "So take what you want, take what you can / Take what you please, don't give a damn / Ask for forgiveness, never permission / … It's in the blood and this is tradition."
"Bells in Santa Fe" is a feature point in both the album and the film, and was used as the first teaser for the release of the album. The bridge "All of this is temporary" is enough to give chills both from the first listen to the last, and "Don't wait for me, don't wait for me, wait – ah. / It's not a happy ending," will remain a point of reflection.
The next song, "Easier than Lying," builds on this, starting off quickly, like a gunshot, and building on individual power. Being the heaviest rock song on the album, it's the type of song that you want to crank up in the car and scream to. With a heavy emphasis on rage, the song touches on the people who sculpt you, the lovers who change you, and the parents who shape your childhood and then decide they don't like the person you've become.
The calmest point in the song, "Losing you is easier than / Lying to myself that you love me," feels like a moment of revelation leading to anger and change. Instead of being a song about reshaping yourself for others, Halsey writes about choosing yourself and recognizing that it's easier to choose the truth than to please others.
"Lilith" builds on a theme present in a few Halsey albums, nodding towards "Bad at Love" and "Forever…(is a long time)" with the exploration of destructive behaviors and their impact on their relationships as she says: "I just f— things up if you noticed / Have you noticed? Tell me, have you noticed?"
The most moving songs on the album are the ones that dig their feet in and that you'll get stuck in your head for weeks. Particularly masterful are "1121," "I am not a woman, I'm a god," "Girl is a Gun" and "Whispers."
A whirlwind of letting go, getting drunk, and having fun in the face of frustration and stress, "Girl is a Gun" has a fast and wild beat that comes across almost manic at times. Presented in the movie as a period of freedom, the song represents and depicts a desperate-but-freeing instance of frenzy.
"You Asked For This" goes back to Halsey's exploration of rock after largely making alternative music. "Darling" is a slow and sweet lullaby to her baby boy.
The next track, "1121," is also about her baby and Halsey's relationship with her body, pregnancy, and potentially her endometriosis. They sing about not being willing to die for love, but that she has "a body here to bury." The album and film both circle each other in a complex conversation about life, death, and childbirth. Halsey has spoken before about her desire to be a mother, but acknowledges the dangers and complications of pregnancy, as well as the fear that comes with it, and the pain of losing a child.
In the ninth track on the album, "honey," (stylized in lowercase) Halsey flashes back to a chaotic and cataclysmic sapphic relationship through a fast-paced track. It deviates from the storyline of the concept album, and doesn't make a presence in the feature film, but Halsey has labeled this as the easiest song to write, and one of their favorites.
The final few songs are some of the most powerful. In "Whispers," a hushed, slow-burn beginning leads to an honest recanting of horror and the role of Halsey's bipolar disorder in her life.
"I am not a woman, I'm a god" is the 11th track on the album, and by far the best. It shows incredible duality compared to "honey", and challenges the gender roles placed on them by others. Halsey uses she/they pronouns and doesn't identify themself as a woman, which they challenge in this song, saying "I am not a woman, I'm a god." Towards the beginning of their pregnancy they wrote "I thought pregnancy would give me very strong, binary feelings about "womanhood" but truly it has leveled my perception of gender entirely. My sensitivity to my body has made me hyper aware of my humanness and that's all."
"The Lighthouse," the 12th track on "If I Can't Have Love, I Want Power," continues Halsey's theme of making anger read like poetry as she depicts the lighthouse by the sea, talking about how her "tongue is in her teeth." She uses the chorus as a metaphor for being a siren, in a struggle between the shoreline and the waves, being rescued and "lur[ing] you like a landslide." In Halsey's anthology of poetry, released in 2020, there was a poem titled "Lighthouse" that discussed her abusive ex, labeling him as a siren and her as a lighthouse. Here, Halsey reclaims that and switches the narrative around, as she writes about kicking and luring with lovely things in a way that presents herself as the siren, rather than the lighthouse.
In their final track, "Ya'aburnee," Halsey composes a love letter to her partner and baby. Ya'aburnee is a translation of an Arabic word, meaning that it is better to die before the other, lest they have to live without them. "Ya'aburnee" is the calmest song on the album, and it carries the weight of an ending with it, with a peaceful, loving acceptance of closure, and weight of longing towards the days together lost.
The feature film for "If I Can't Have Love, I Want Power" dives into deeper detail than even the songwriting on the album, with a heavy emphasis on slow moments illustrated through the cinematography.
The film was written by Halsey, as well as accompanied by their music, and her focus on details is present in the small expressions captured and the subtle references to her previous work. Shortly after the film begins, an advisor to the king says: "This woman will not go quietly. She has already made that clear."
The acting was striking and sharp, as Halsey played the main character, a young queen named Lila. Within the film, the deep driven concepts of objectification and powerlessness feel like a reference to Halsey's 2015 song "Castle" where they write: "I'm headed straight for the castle / They wanna make me their queen / And there's an old man sitting on the throne / That's saying that I probably shouldn't be so mean." Halsey has focused on patriarchy before, but the film adaption of "If I Can't Have Love, I Want Power" took this up a notch. It not only explores relationships between women, but also examines the blissful hope of parenthood. It also battles a struggle for power and individual control, especially between women and powerful men.
It was incredible, if shocking, and as I left the theatre, "Bells in Santa Fe" rang through my head – "It's not a happy ending."
The entire album is not a happy ending, and the feature film that builds off the concept is much the same. "If I Can't Have Love, I Want Power" is about a struggle, about regaining self amidst conflict, and about making the best of your situation when all the odds are diametrically set against you. It is the sort of album that you hum in your head as you grit your teeth and bear with life. Nevertheless, it is a musical experience to keep on repeat for many weeks to come, as it changes the game with a difficult and honest conversation that breaks free from the mold of popular music.
Leave a Comment
About the Contributor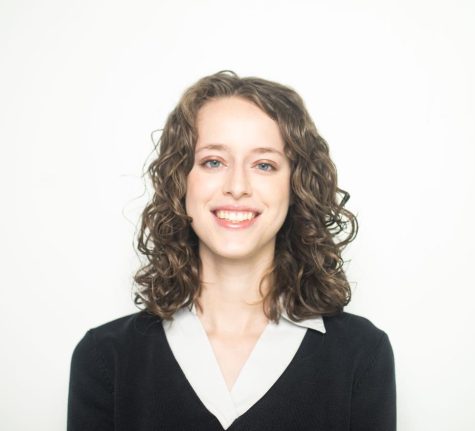 Sydney Haulenbeek, Editor in Chief
Sydney Haulenbeek is an English major and senior, graduating in May of 2023. Before becoming the Editor in Chief of the Mace & Crown she worked as...