In 2007, three white students in Jena, Louisiana hung nooses from a tree after a black student asked if he was allowed to sit under it. After they were identified, the students only received three days of suspension for their "prank." Following this , the tension that arose at the school between white and black students led to a fight, resulting in six black male students being charged with conspiracy to commit murder and attempted murder. 
The Jena 6 case is the basis of "Blood at the Root," a production brought to ODU by director Brittney S. Harris. "Blood at the Root" ran from Nov.9-19.
 This extremely witty, informative, and entertaining play had the crowd in tears, through both laughter and sorrow. It was a refreshing take on intersectionality and addressed issues people often tip-toe around. In "Blood at the Root," issues aren't just addressed, but chanted, protested, demonstrated, explored, and even rapped. 
Retelling a story is a difficult challenge. There has to be serious knowledge and understanding in order to successfully accumulate the necessary details. Harris executed it perfectly. 
"I constantly empowered our ensemble to challenge the intrinsic links between injustice and identity to create their own unique interpretation of this text and characters so carefully crafted by the playwright Dominique Morisseau," she said.
Angelina Paquin, who played Toria, explained that skill doesn't stop with knowledge when it comes to directing.
"[Brittney Harris] cares about how her cast feels, how her crew feels, about making us feel so comfortable and united […] That's how every director should be […] She is the blueprint, she is the model. She is everything that I could ever want in a director."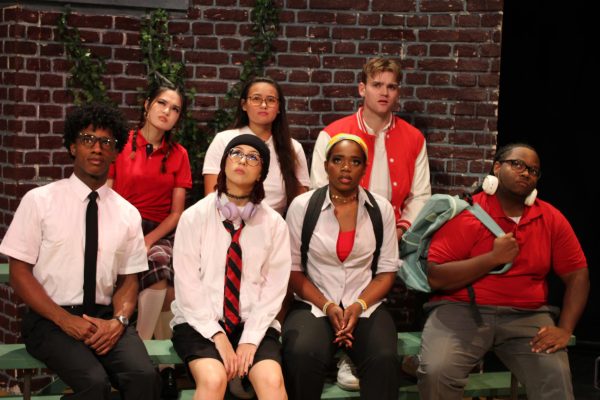 Brittney Harris is not the only person involved that contributed talent. The sound, lighting, scenic, and costume designers provided so much to this play, and it wouldn't be what it was without them. However, the real stars of the show are simply the stars of the show. Genuinely moving performances were given by Kenda Blount playing Raylynn, Koby Lomax playing Justin, and Jay Prime playing De'Andre. 
The play did something I hadn't seen at ODU before: shadow-work. The cast stood behind a screen and used their shadows to act. To accomplish this, they had to use very distinctive movements. The actors were also able to move throughout the theatre and "interact with the audience, look at the audience, say things to the audience," as explained by Paquin.
Everything was finely executed, all while demonstrating racial injustices, racial double standards, homophobia, prejudices, racial assumptions, and quite simply, students having enough of the status quo. The play showcases different perspectives on shared events and how this can change a friendship. It shows how one outside event can change everything and divide people more than anything. It shows how all aspects of ourselves "got roots."
This was by far my favorite play that I have seen here at ODU, and I can only hope that it comes back again.