A film mecca is being built at Perry Library. 
After 5 years, the finishing touches are being made on the library's greatest expansion in over a decade. Coming in early 2024, 42,000 DVDs, Blu-ray Discs, and VHS tapes will be available for check-out for students, faculty, and friends of the library from the Naro Collection. 
According to the Dean of Libraries, Timothy Hackman, the Naro Collection will be among the three "largest film collections on the East Coast."
In 2018, Norfolk's historic Naro Video closed its doors under the weight of rival streaming services. After failed attempts to receive public funding, a newly developed advisory board resolved to donate their massive collection to ODU. 
Since then, a multi-year cataloging process has crippled the momentum of the Collection's opening. Despite the slog, under the direction of Naro Collection curator Kris King, Old Dominion has hosted several free screenings at the University Theatre, Planetarium, and Naro Theater in Ghent.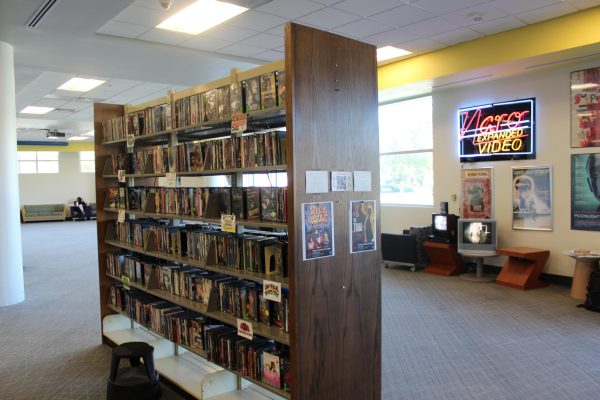 Now under construction in the library's former government documents room are shelves, displays, viewing areas, and decorations to accommodate the massive collection. Also being planned is a projector-based screening area that could serve as the next location for the Monarch Short Film Festival, which began last year. 
Accessibility is a main concern being addressed by the library's directors. "We recognize that students especially don't have DVD players; they don't come standard on laptops anymore," said Timothy Hackman, Dean of Libraries. "With this, we'll be able to have viewing stations and lend [them] out."
Hackman stated that the library will strive to provide visitors with opportunities to explore the obscure, non-streamable annals of film history. He also expressed interest in breathing new life into ODU's feeble, but passionate, film studies department. 
An endowment of approximately $12,000 has been set aside for new additions to the Collection. These will include classic rereleases, yearly blockbusters, and independent films, as well as items to bridge the gap between Naro Video's closure and the Naro Collection's opening. 
Currently, library visitors can sate their film appetites with the Collection's sneak peek shelf housed at the front of the library. Only three films may be checked out at a time for a one-week loan period.