What a game it was as 26,239 fans packed Bridgforth Stadium in Harrisonburg, VA, for the fourth installment of the Royal Rivalry, breaking the attendance record. The Old Dominion football team 4-4 (3-2 Sun Belt) pushed their in-state counterparts, No. 25 James Madison 8-0 (5-0 Sun Belt), to the brink, but the Dukes prevailed and held on to a 30-27 victory. The series is now tied at two apiece as JMU has been victorious in the last two matchups since joining the Sun Belt. 
The Monarchs won the toss and deferred to the second half. On the opening drive, James Madison picked up a big gain on their first play as quarterback Jordan McCloud connected with wide receiver Elijah Sarratt for 40 yards, well into ODU territory. On the ensuing first down, McCloud was intercepted by Shawn Asbury off a deflection that fell into his hands. He hauled it down the sideline for 46 yards to the JMU 35-yard line. 
ODU managed to get inside the Dukes' 10-yard line but on third and goal, junior quarterback Grant Wilson missed his open target in junior wide receiver Javon Harvey, which forced the Monarchs to settle for a field goal to get ahead 3-0. After forcing JMU to punt on the ensuing drive, ODU put together a six-minute drive that got well into JMU territory, but eventually halted on fourth and two as the Dukes' defense came up with a stop for the turnover on downs.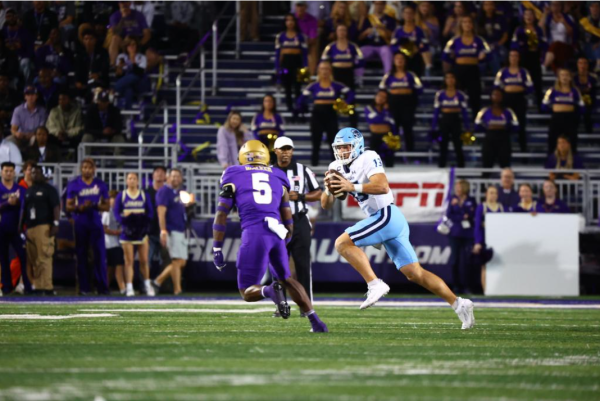 Gaining momentum after the stop, James Madison quickly capitalized with a 49-yard touchdown pass from McCloud to wide receiver Reggie Brown on a three-play drive, putting the Dukes ahead 7-3. In the second quarter, JMU had an impressive 80-yard, seven-play drive that included a 31-yard reception by Saratt, bringing them to the goal line. This led to another touchdown, with McCloud rushing it in and increasing their lead to 14-3. 
On the next drive, Old Dominion retaliated with a touchdown of their own. Wilson found junior wide receiver Isaiah Paige multiple times, moving the Monarchs toward midfield. On third and four, Wilson spotted wide receiver Dominic Dutton free of his defender on the left and threw a 58-yard touchdown pass, reducing JMU's lead to 14-10.  The score would remain the same for the rest of the first half. 
Old Dominion received the opening kickoff to start the second half. However, on the kickoff, sophomore cornerback Khian'Dre Harris muffed the ball while calling for a fair catch, causing ODU to begin their drive at their own five-yard line. The Dukes' defense made a crucial play on third down by sacking Wilson in the endzone, resulting in a safety and extending their lead to 16-10. JMU then put together another four-minute drive consisting of 11 plays that culminated in another passing touchdown from McCloud to Saratt, increasing their lead to 23-10.
On the next Old Dominion possession, they managed to put together a quality nine-play drive of 75 yards. While the rushing game for ODU struggled earlier, it came alive in the second half. The touchdown drive was fueled by solid runs from junior running back Kadarius Calloway and sophomore Obie Sanni. After a touchdown pass from Wilson to Harvey was waived off due to a holding penalty, they managed to connect once again on second and ten, cutting the deficit to 23-17.
James Madison's offense returned to the field and scored another touchdown, completing a nine-play drive efficiently. McCloud found Brown for a 21-yard catch, increasing the lead to 30-17. It was a back-and-forth game as Old Dominion regained possession and continued to play well. Junior running back Keshawn Wicks had a 31-yard run, and Calloway contributed 34 rushing yards, including a 21-yard rushing touchdown that brought the game to 30-24.
Early in the fourth quarter, the Monarchs had to settle for a field goal to cut the deficit to 30-27 with 10 minutes to play after not converting on their set of downs inside the Dukes' 10-yard line. The ODU defense held the Dukes scoreless in the fourth quarter, giving the offense plenty of opportunities to go win the game.
With 4:36 remaining in the game, the Monarchs were down by three points and began a promising drive. Quarterback Wilson threw a 30-yard pass to Javon Harvey, bringing the ball close to midfield. However, on fourth down with 11 yards to go at the ODU 46-yard line, Wilson's intended pass to Isiah Paige was incomplete. ODU's defense held strong and the Monarchs regained possession at their own 10-yard line with just 32 seconds remaining. Unfortunately, JMU forced a fumble by Wilson, ending the game.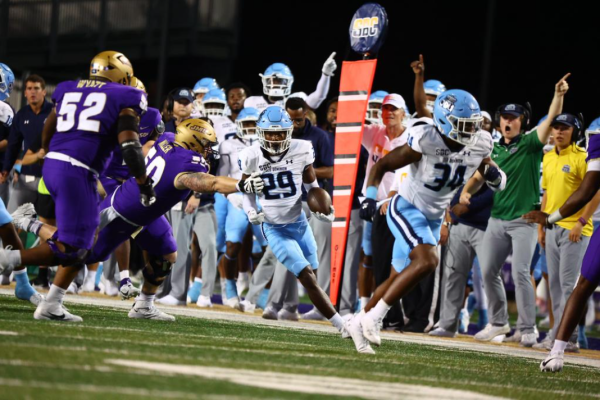 On a night when there was little margin for error, some key mistakes and penalties were all that separated the Monarchs from an upset victory. Head coach Ricky Rahne recognized the grit from his team's performance but felt they let this opportunity get away from them. 
"That one stings because we had them," Rahne stated. "I thought our guys played their hearts out. We made too many mistakes, but we played tough. We have tough kids who were absolute warriors." 
Asbury made his second career interception, returning it 46 yards to set up the opening ODU field goal. Dutton recorded his third touchdown of the season. Keshawn Wicks' 36-yard run was his longest this season, as he rushed for 76 yards on 11 carries. Calloway finished the evening with 69 rushing yards off of 17 carries, along with his fourth rushing touchdown on the season. Wilson completed 26-36 passes for 277 yards and two touchdowns, demonstrating an efficient performance as quarterback this season. 
Rahne praised Wilson for efficiently running the offense.
"Grant played a really nice game. He just operated the offense. Was every decision perfect? No. But that's not going to happen. But he played really well."
Next up for Old Dominion is Coastal Carolina 5-3 (3-2 Sun Belt) making the trip up to Norfolk, VA this Saturday, Nov. 4, for Military Appreciation Day. Both teams are in the East division standings of the Sun Belt, with the Chanticleers coming off a great win against Marshall, and this game will be crucial for their rankings. Kickoff is scheduled for 3:30 p.m.