Walking into the Hixon Student Gallery may leave a viewer confused at first glance as they are met with seemingly mundane setups: an unfinished necklace on a wooden table; a hammer on a rocking chair; a wind chime set up indoors so it can't sing. But viewers should not be discouraged by this: ambiguity is the theme of this art show.
"Almost Occasions" is an art show presented by ODU Advanced Metals showcasing the artistry of advanced metalsmithing students Theo Mayberry, Lisa Beckman, Cadmium Daniels, Hale Johnston, Seville Marina Meyn Partida, and Megan Obenaus. 
The abstractness of these metal works of art ties them together, displaying a theme that "consider[s] the not quite there, the cusp of decisions, the brink of moments, near misses, and almost occasions of life." By visiting the show's Instagram page, @almost_occasions, viewers can find more details about the materials the students used for their creations and the meanings behind their projects.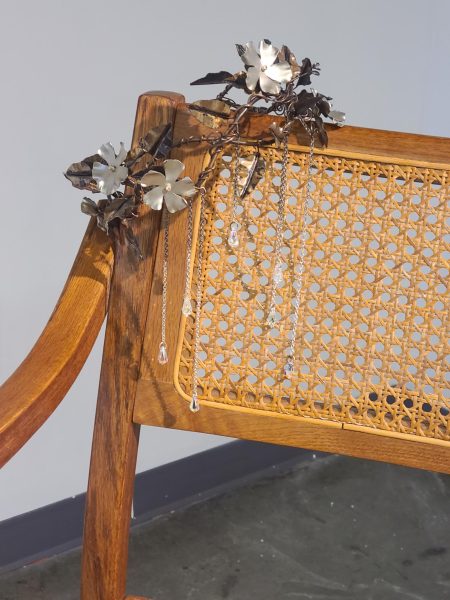 "An uncomfortable crown worn in an uncomfortable position, the realization of a goodbye," Daniels wrote about her piece "Goodbye," a beautifully intricate crown balanced on the edge of a wooden chair.
These students have used their works to bring their experiences to life, such as Beckman, whose sister pieces "Detail My B Cell Process" and "All The Good BS" represent her experiences with being diagnosed with asthma and "specific immunodeficiency."
The previously mentioned "hammer on a rocking chair" piece is actually called "Futile." Created by Hale Johnston, it is meant to evoke the futility of trying to build a strong foundation with broken materials and consequently having to find new ways to construct that strong framework. Some pieces, however, remain unexplained on Instagram, such as Theo Mayberry's "Unfinished."
"Almost Occasions" is a rare gem of an art show that exhibits an uncommon medium and shows off the unique talents of ODU students. Anyone interested in the visual arts should pay the Hixon Student Gallery a visit and experience "Almost Occasions" for themselves.
"Almost Occasions" will be on display until Oct. 20. The Hixon Student Gallery will be open from 9 a.m. to 8 p.m. Monday through Thursday and 9 a.m. to 5 p.m. on Friday.