Bureaucracy continues to spike the tires of Eastern Virginia Medical School and Old Dominion University's integration process. 
On Oct. 5, ODU President's Brian O. Hemphill, Ph.D., and Alfred Abuhamad, M.D., released an email to all students, faculty and staff that the upcoming integration will be postponed seven months from their initially reported date of Jan. 1, 2024. 
On the delay's justification, the presidents said, "While we are confident that we will conclude these conversations soon, it is unlikely this will happen before we reach some important SACSCOC accreditation approval deadlines." 
The Southern Association of Colleges and Schools Commission on Colleges (SACSCOC) is the governing body of accreditation for degree-granting institutions in the Commonwealth. With EVMS becoming a public institution following the merger, it is paramount that accreditation is renewed. 
The specifics of the integration, including how students, tuition, staff, faculty, or campus life will be affected, have remained largely cloudy. An EVMS' website says that "the exact nature of an integration has not yet been determined, we are considering all options." 
"Over the past two years, teams from both EVMS and ODU have met regularly to work toward successful integration," ODU said in a statement to the Mace & Crown.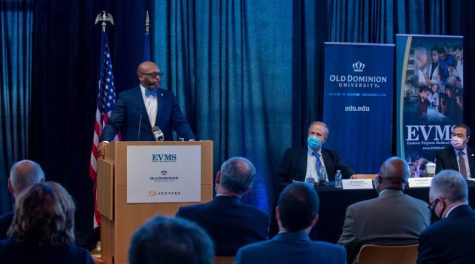 "These teams," they continued, "include leaders from both organizations, led by counsel [from] experienced third-party advisors, serving on 10 functional teams. The teams are tasked with determining all aspects of integration, including the impacts to students, faculty and staff, and are working toward integrating no later than July 2024."
Compensation and benefit reviews for faculty and staff are reportedly being explored by both institutions, but "should any issues arise, leadership is committed to finding a solution with minimal impact to our employees," they said. Regarding their respective health science departments, workforce reductions are not part of ODU or EVMS' agenda. 
On students' experiences, the integration's website said, "Should the integration move forward, [students] will benefit from enhanced educational opportunities, increased access to world-class research initiatives, and inter-professional training opportunities to further cultivate collaborative working relationships with peers and mentors from diverse fields of study and practice."
Campus structures will not be relocated due to a 2 mile proximity between EVMS and ODU. According to the integration site, funding was not provided to make way for a consolidation on a single campus nor was there any desire to from the start. Future medical programs could be developed on either campus on a case-by-case basis.  
In order to develop the integration's budget, Gov. Glenn Youngkin signed an amended budget last month providing his foundational support. ODU and EVMS reached an agreement with Sentara Hospitals and other external partners to fill-in the remaining gaps. 
Additionally, a study has been commissioned to consider the legacy-related consequences of a rebranding by title or iconography. 
"We sincerely appreciate everyone's continued diligence, flexibility, and patience as we make steady progress on these pressing matters and overall efforts," the presidents said.