Tensions were high at the ODU soccer complex on Saturday night as the Monarchs took on #2 UCF Knights. The Monarchs put together a quality performance, with the score remaining tied for the majority of the second half before a lucky goal by the Knights in the 83rd minute won them the game. 
The Monarchs came into the contest 5-1-5 and the Knights came in 6-1-2. Both teams entered the contest 2-1-1 in the Sun Belt Conference. With the win, the Knights moved into second place behind undefeated Marshall. Old Dominion dropped to fourth in the conference, keeping them in a good spot for a postseason run. 
Play was dominated early on by the Knights as the Monarchs worked to get comfortable in their skin. Unfortunately for the Monarchs, UCF was able to capitalize on some of the ODU nerves, gaining a penalty kick in the 12th minute. Knights striker Luca Dourado nailed the PK and gave his side the 1-0 lead. 
The rest of the first half was quiet on the scoreboard as the Knights led 1-0. However, play at the half was actually evenly matched as both teams tallied two corner kicks. The Knights lead shots on goal 4-3. 
The Monarchs' defense after the penalty stayed strong and helped them to gain possession on some challenges, giving them more possession time with the ball. The physicality of the Monarchs also shined through as it provided shot-scoring opportunities in the second half.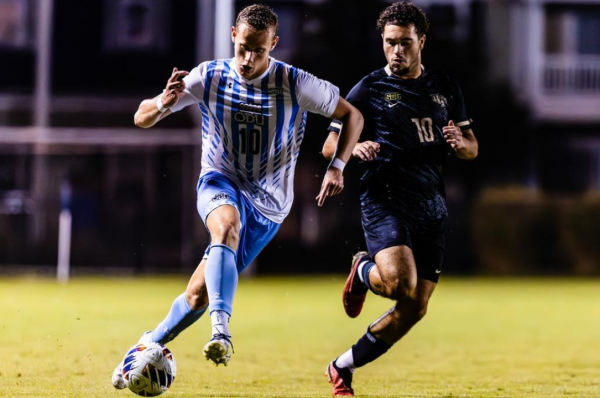 ODU pressure came to the rescue as a misplayed ball by the UCF keeper gave Jonas Schmalbach the ball five yards outside of the box untouched. After two touches, Schmalbach shot a ball on the ground to score in the 75th minute. 
This goal brought the Monarchs tied with the #2 team in the country late in the second half. Following this, many of the Monarchs fans could see a potential draw close in sight. 
Unfortunately, this did not turn out to be the case as Dourado was able to have his shot find the back of the net after taking multiple deflections. This goal was enough to topple the Monarchs 2-1 when the final time expired. 
However, the Monarch's performance on the evening was nothing to hang a head about. They lead in shots on goal 8-5 and the Monarch defense remained strong as a whole. ODU's keeper made 3 saves in comparison to 7 saves made by the UCF keeper. 
The fierce competition for the Monarchs continues throughout October as they take on nationally ranked West Virginia and top-ranked Marshall. The Monarchs also take on JMU in their royal rivalry game this month before entering into postseason play in November.