Over the weekend, the Old Dominion Volleyball team welcomed James Madison to town for a pair of matches in their annual 'Royal Rivalry' series. Both contests were competitive, but the Dukes would go on and win both matches in straight sets. After securing both games last year in Harrisonburg, VA, and this weekend, the Dukes lead the series 4-0. 
With the defeat, ODU ended their four-game homestand 0-4 and are on a five-match losing streak. The Lady Monarchs are now 9-11 (1-5 Sun Belt) on the season, whereas the Dukes are now 13-4 (6-0 Sun Belt). 
In the first contest on Friday, the Dukes scored two kills to open the first set.ODU responded with a kill from senior setter Teresa Atilano, a block by juniors Myah Conway and Olivia De Jesus, and a service ace from junior outside hitter Alice Munari, giving ODU the 3-2 advantage. It remained competitive throughout the opening set until JMU gained some separation with a 4-1 scoring run to make it 16-11. Although the Dukes had the upper hand, sophomore middle blocker Bailey Burgess scored a kill for ODU to make it 16-12. However, JMU maintained their composure and closed out the set on a decisive 6-2 run, taking the set 25-16.
In the second set, senior outside hitter Tessa Mati made three kills that helped ODU build a strong 6-2 lead. However, JMU bounced back with four consecutive points and took control, leading 10-9. Atilano then assisted Munari to tie the set at 10-10, but another four-point run from JMU gave them a 14-10 lead. A block by Burgess and Conway managed to cut the deficit to 18-16, but ODU couldn't get any closer and JMU won the second set 25-19. 
The third set was equally intense, with freshman Kate Kilpatrick getting a service ace early on to tie the score at 4-4. JMU then pulled ahead, leading 7-4, but a kill from freshman outside hitter Bryanna Jones and a bad set by the Dukes brought ODU back within a point at 8-7. However, a 5-1 swing by JMU allowed them to create separation and lead 17-10. Despite three consecutive kills by Burgess, Mati, and Conway, which trimmed JMU's lead to 20-16, the Dukes won the match with a 25-19 decision.
In game one, Conway scored 11 kills, while Mati and Burgess followed behind with seven kills each. Atilano played a vital role in the team's performance, finishing the match with 26 assists, nine digs, and three blocks. Kilpatrick contributed defensively, tallying a team-high of 13 digs. Burgess recorded five blocks, and Conway added three blocks.
After the match, head coach Fred Chao shared his thoughts on his team's performance on Friday night. 
"I thought we showed up and James Madison is a really good team. We could have come out flat and been defeated, or come out the way we did," Chao said. "To our credit, I think we played really well and put together an offensive presence that we hadn't had in a little while."
Despite falling to the Dukes in game one, the Lady Monarchs looked to bounce back on Saturday afternoon.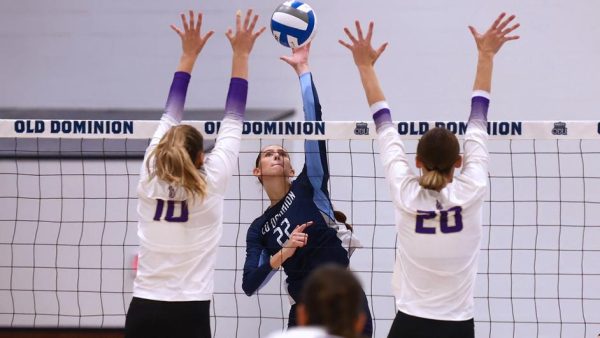 The first set saw the Monarchs take an early lead through a combination of JMU attack errors, a block by sophomore LeeAnne Lowery, and a pair of kills by Conway. After the Dukes pulled even at 4-4, sophomore setter Ashlynn Belcher assisted Conway to tally a 4-0 run for ODU. The visitors once again pulled even at 8-8, but a kill from junior outside hitter Alice Munari, along with a service ace and a solo block by Mati, put the home team back in front, 12-9. The Dukes then put together a 6-0 run to surge ahead 15-12, but the Lady Monarchs evened the set at 18-18. Both teams traded points from there, but back-to-back kills from JMU helped the Dukes secure the 25-22 set victory. 
In the second set, the Dukes came out strong, jumping out to an 8-4 advantage and later increasing that lead to 12-6. As ODU trailed 15-8, the Monarchs needed a spark, and they got it from both Burgess, who converted an attack, and Conway, who served a pair of aces. This gave the Lady Monarchs a 4-0 scoring run that cut the deficit to 15-12. However, James Madison responded with a 7-1 scoring run to swing the momentum and went on to win the second set 25-15. 
In the third set, Old Dominion got out to a 6-3 lead after a kill from freshman outside hitter Elisa Maggi. The Dukes responded with a 6-0 scoring run, gaining the advantage 11-7. From there, Conway got the kill and ignited a 5-0 scoring run for ODU to retake the lead 12-11. The set was neck-and-neck at 16, but it was JMU who secured the match with an 8-0 scoring run, extending their lead to 24-16. Burgess would get a kill for ODU, and a JMU attack error kept the set going, but the Dukes put away the set 25-18, securing a clean sweep for the afternoon.
Conway played impressively in the second match, nearly achieving a double-double with a team-high of 13 kills and eight digs. In addition to this, Conway also served three aces with two blocks and two assists. Mati and Munari contributed with five kills each. Belcher achieved a career-high of 26 assists. The team's defensive efforts were led by Lowery and Burgess, who both made a pair of blocks, while Kilpatrick led the back row with 17 digs.
"We hit for a decent percentage even though we lost that first set, but the game started to get away from us," Chao stated. "James Madison makes a really good push in the middle of the sets. Their serving ramps up a little bit and we didn't keep up with that. Their ball control is really good and they're always putting their hitters in a good situation to take swings, or at least threaten to swing." 
Up next for the Lady Monarchs is another tough test in Conway, South Carolina, where ODU will square off with Coastal Carolina (11-7, 6-0 Sun Belt) in a conference series match. Game one is slated for Friday, Oct. 13 at 6 p.m. and game two will be held at 1 p.m. on Saturday, Oct. 14.