Old Dominion volleyball secured a 3-2 victory over the Liberty Flames on Tuesday night after pulling ahead in the final set and a pair of service aces from senior setter Teresa Atilano. With the  win, the Monarchs improved their record to 8-6 on the season. ODU is 2-0 against the Lady Flames overall.
In the first set of the match, the Lady Monarchs jumped out to a 7-2 advantage after giving up the first pair of points. The Lady Flames returned the favor with a scoring run of their own to tie the set at 8, but junior right-side hitter Myah Conway broke the tie with a kill, putting ODU ahead. The match trended both ways throughout the rest of the competitive set. With Liberty up 23-20, the Lady Monarchs scored back-to-back points off of service errors from Sydney Whitfield and Kate Phillips. It was then that the Lady Flames secured the set victory with a kill and service error. 
Rebounding from the first-set defeat, Old Dominion was able to take a decisive victory in set two. After falling behind 3-1 early on, the Lady Monarchs scored four straight points with three kills and a service ace to get ahead 5-3. ODU would eventually go on a 10-3 scoring run overall to gain an 11-6 advantage over the Lady Flames. Atilano closed out another five-point scoring run with another service ace in the match, extending the ODU lead to 16-7. The Lady Flames were able to take the next three points in the set to cut into the lead 16-10, but a pair of kills from Conway and freshman outside hitter Elisa Maggi extended their advantage to 18-10. The Lady Monarchs went on to win the set 25-19. 
In the next set of the match, Liberty took it upon themselves to bounce back and scored a 25-15 victory. The set began with ODU ahead 3-1, but the Lady Flames tied the match with a service error on Maggi and a kill from Phillips. The set  remained competitive over the next few points, but as the game  knotted up at eight, the Lady Flames scored six consecutive points to gain the 14-8 advantage. From there, Liberty would not look back, securing the ten-point victory to get ahead 2-1 in the match.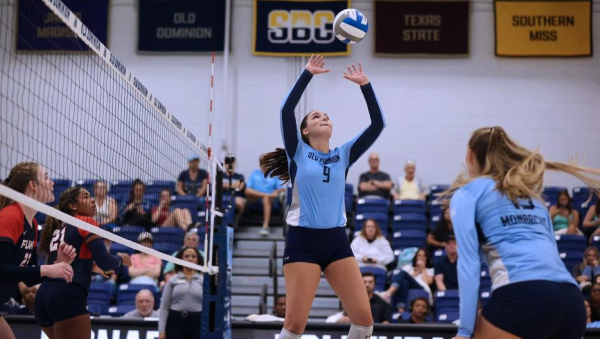 It was a pivotal fourth set for both squads, but Liberty gained early momentum after jumping ahead to a 5-1 lead. After a service error was called for Old Dominion, the Lady Flames scored another three points gaining an 8-2 advantage in the set. Liberty would get called for four consecutive attack errors for ODU points, and the lead dwindled to 10-6. It was a back-and-forth affair throughout the majority of set four as both teams kept scoring. Old Dominion would tie the set at 19 and 20, but they fell behind 22-20 after the Lady Flames scored a pair of kills. On the next point, junior outside hitter Alice Munari scored a kill of her own to bring the set within one, but ODU scored the next five points, securing a crucial 25-22 victory to force a fifth set. 
In the final set, Atilano got the scoring started with a service ace. Old Dominion would then score four more points, extending their lead to 5-0 before Liberty scored a pair of points to cut into the deficit. Conway started a four-point rally with a kill,  bringing ODU's lead up to 9-2. As the game favored the Lady Monarchs 13-5, Liberty rallied for a four-point scoring run to bring the game within four, but a kill from freshman outside hitter Bryanna Jones gave ODU the match point. The Lady Flames scored once more off a kill from Phillips before sophomore middle-blocker LeeAnne Lowery ended the match with a kill, giving Old Dominion the 15-10 set victory and a 3-2 match win. 
ODU's offense was spearheaded by Conway and Munari, who registered 16 and 11 kills respectively. Atilano put up an impressive 43 assists and 10 digs. In addition to this, she also contributed five blocks, four aces, and two kills. Kilpatrick made a significant contribution as well with a team high of 12 digs, while Burgess recorded six blocks and Conway had five. 
"It was a tough match. It was definitely up and down," head coach Fred Chao said. "There were long stretches that were good and then long stretches that were bad, but I'm glad we timed it well and we came out on top."
Next up for Old Dominion is Sun Belt Conference play as they travel to Huntington, West Virginia for a pair of games against Marshall University. Game one is this evening, Sept. 21, at 6 p.m. Game two is tomorrow night, Sept. 22, at 6 p.m. The Lady Monarchs return home next weekend with matches on Friday, Sept. 29  and Saturday, Sept. 30 for a pair of home games against conference foe Georgia Southern.