Early Success for Up-And-Coming ODU Esports Program
Disclaimer: Benjamin Draper, the author of this piece, is a paid member of staff for ODU Esports.
A decade ago, there was no thought of the word "esports" at Old Dominion University. Although video games were important to students in their personal lives, the lack of interest in video games on campus kept the competitive gaming community at ODU on a low-key level. This changed in 2020 when Old Dominion became the first four-year public institution in the Commonwealth to begin a varsity esports program.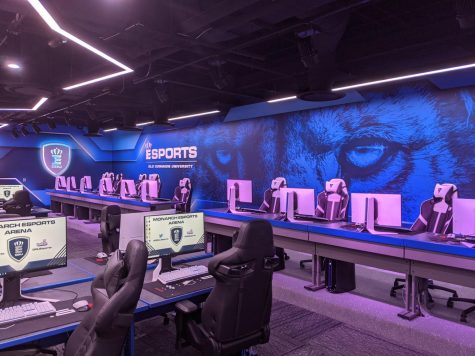 Grant Deppen, Assistant Director for Intramural/Extramural/Club Sports at ODU, was asked to take a look at how esports could be integrated on campus. Deppen is a graduate of Kent State University with a bachelor's in Sports Administration and a master's in Sports and Recreation Management. He spent five years at Kent State working as a coordinator and referee for intramural sports. In October of 2014, he moved to Old Dominion and has been assisting with intramural sports. In 2019, former Vice President for Student Engagement and Enrollment, Don Stansberry, approached Deppen with the opportunity to get students more involved in esports. 
"We went into a pretty heavy investigative phase that lasted from January-February 2019 till about September 2019 that went into benchmarking, finding potential locations, looking at cost, and how we build out an arena to be feasible for students on campus," Deppen said. "At that point, I made a pitch to Stansberry and several other ODU officials that we could do something pretty robust esports-wise, based on what was already happening."
Due to COVID-19 regulations throughout the later part of the 2020 school year, the program didn't get an opportunity to properly start until the fall of 2021. While most of the competition was happening remotely, the Monarch Esports Arena was being installed on the second floor of the Webb Center, where it would utilize 1400 square feet for various gaming PCs, a broadcast room for streaming production, and an all-around great space for students to hang out. 
"We made all of the final decisions on the drawings and architecture of the arena the same week that classes were being canceled due to the pandemic. Everything was built in to still occur," Deppen said. "We didn't officially open the Monarch Esports Arena until April of 2021. We had teams playing remotely for the first year of this program, but due to the lack of students on campus, we were officially open to the general public in fall 2021."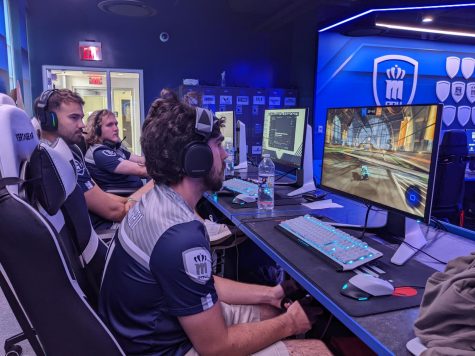 It wasn't until students returned to campus in the fall of 2021 that the ODU Esports program began to take the next leap in building a name for themselves. The program brought on students to fill positions as staff, coaches, social media members, a production and broadcasting team, and members of the 14 varsity game titles for competition at the regional and national levels. In 2021, among the teams that Old Dominion offers, the Monarchs were ranked No. 2 in the nation in FIFA, while the Super Smash team finished ranked No. 4 in NACE (National Association of Collegiate Esports). 
The success of the Smash team carried over into the 2022 school year when they finished No. 8 in NACE. They also qualified and participated in CECC (Collegiate Esports Commissioners Cup) in Atlanta, Georgia, where members of the team stayed for several days. Another successful ODU Esports team in 2022 was the Valorant squad, who became MAEC Champions at the Shenandoah LAN tournament. The Madden varsity team finished No. 8 in the nation in the fall of 2022. Among the rest of the teams that ODU Esports offers, many have had several playoff appearances in various game titles. The program was given the privilege of hosting the 2022 VHSL Esports Championships in the Monarch Arena and throughout the Webb Center, where many high school students throughout Virginia came to campus and watched the program compete at the state level. 
Handling a whole esports program as well as directing intramural and club sports requires assistance. Deppen found his right-hand man in Byron Hindson, who is the overall coordinator for ODU Esports. Hinson is a graduate of the Catholic University of America, where he received a bachelor's degree in mechanical engineering. When arriving at ODU in the fall of 2021, he started off as a graduate assistant for the upcoming esports program before being given the opportunity to work full-time as the coordinator. 
"Having Byron on has been really a savior for me, even though as a graduate assistant, he came in and just kind of owned his role, his position, and his level of authority among the program," Deppen said.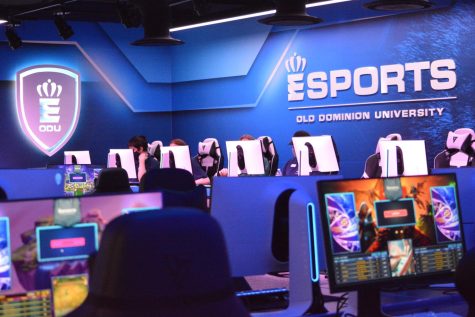 Although the ODU program has had steady success throughout its first years of existence, the goal is to keep growing and achieve more going forward. The main goal for ODU Esports is to be able to offer scholarships, which can help bring in the best players possible. The program also hopes to expand training opportunities for coaching and practice programs and integrate further with academic programs, allowing students to add a new dimension to their college education.
"Overall, I think the very first goal we had was to be as competitive as we can within our resource base. There are schools that seem to offer full scholarships and things like that to attract students from all over the world," Deppen said. "We have a large program, we have the space that's able to accommodate a lot of different things, but if we can get to that scholarship position, that's what is going to take us to the heights we wanna get to."