Revamped ODU Offense in Spring Game Shows Promise for the 2023 Football Season
Coming off a disappointing 3-9 (2-6 Sun Belt) finish to the 2022 season, the Old Dominion football team returned to S.B. Ballard Stadium on Saturday to showcase their talent on the gridiron in front of many Monarch faithful for its Priority Charity Bowl ODU Spring Game.
The Monarchs team will look vastly different next season as head coach Ricky Rahne expects up to 50 new players through the transfer portal, incoming freshmen, and walk-ons that will suit up for ODU when fall practice begins in August. Another distinctive difference to take away from the spring game was the ODU offense.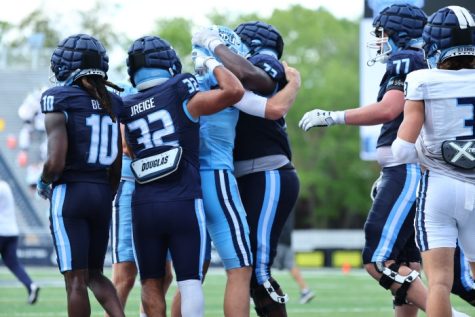 Under the helm of new offensive coordinator Kevin Decker, it seems that the Monarchs' offense next season will not be like it had been before. The offense will not rely heavily on the run game and be able to open things up in the passing game and have the ability to score more points than last season. Decker coached at Fordham University last year and managed to lead their offense to an average of 49.5 points per game, which ranked second in Division I while leading the nation in offensive yardage per game. Although the newly installed offense will take time to gel and implement, who is going to start at quarterback for ODU? 
Earlier last week, the Monarchs starting quarterback last season Hayden Wolff announced that he will be entering the transfer portal as a graduate transfer with two years of eligibility remaining. With his departure, the hole in the helm of this new offense is wide open. The Monarchs have two QBs that can fill that gap of a strong arm, along with serving as a dual-threat in junior Grant Wilson and redshirt sophomore Jack Shields. 
Wilson is a 6-foot-3 transfer from Fordham University, where he was a backup QB under Decker and All-American Tim DeMorat, who led Division I last season with 4,891 yards. He comes to Norfolk with two years of experience in Decker's offense and has played a prominent role in helping install this new offense with Rahne and the offensive staff. Shields is a 6-foot-1 redshirt who joined the Monarchs football program as a walk-on without a scholarship in 2021. 
The pair of quarterbacks impressed on Saturday as they moved the ball downfield and gave the fans in attendance a glimpse of what is to come offensively in the fall. Wilson threw three touchdowns in the scrimmage portion of the spring game along with an interception, while Shields tossed four touchdown passes that included a dazzling deep ball down to sophomore wide receiver Ahmarian Granger, who hauled in the pass. 
The Monarchs passing game has gaps to fill this offseason with the departures of Zack Kuntz and Ali Jennings III, and Granger has the potential to fill that void for this ODU offense. Another player to note is junior wide receiver Jordan Bly, who has had a good spring already and can have a breakout season as well. 
"We believe that Jordan's best football is ahead of him," Rahne stated.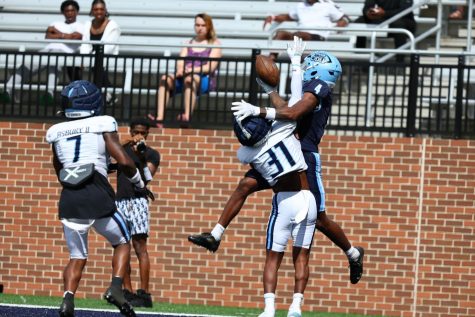 Junior wide receiver Javon Harvey played a good spring game, hauling in two quality touchdown receptions. Along with that, he was presented with the "Heart of a Lion" award. This honor goes to the offensive player that had the best offseason that comes with a beautiful trophy of a lion. The defensive award went to redshirt junior linebacker EJ Green, who has made tremendous progress over the offseason. 
When it comes to his quarterbacks, Harvey has a ton of respect for them and what they bring to the game, along with the fact that this squad feels more united as one. 
"They're great leaders. They bring the energy to each position group and keep the offense together. Those guys are really, really good kids to be around," Harvey stated. "This is as close [as] we've been since I've been at Old Dominion. It's just a sense of togetherness."
Towards the end of the Spring game, Rahne wanted to end things off on a high note as he gathered the team around and announced that Shields would be receiving a full scholarship to Old Dominion. It was a sight to see as the Monarchs team erupted into chaos and swarmed their quarterback. 
"It was amazing, he deserves it," Jordan Bly stated. "He's been working his butt off all offseason and I'm happy for him." 
There were several returning starters that missed the spring game due to minor injuries which included All-American linebacker Jason Henderson and some members of the offensive line, but nothing to worry about as the younger players try to take the next leap before the fall. 
"The Reps that a number of our younger guys got are going to help us down the road," Rahne stated. "We saw some really good improvements this spring." 
Old Dominion will have another tough schedule this upcoming season as they open 2023 on the road in Blacksburg on Sept. 2 against the Virginia Tech Hokies, whom they defeated last year 20-17 in the ODU home opener. After their road game against Tech, the Monarchs will have three straight home games in the month of September. They host Sun Belt conference foe Louisiana Ragin' Cajuns for their first meeting in football ever on Sept. 9. 
After that, they will welcome the University of Wake Forest on Sept 16. It will be the second season in a row where an ACC school comes to the 757 area. On Sept. 23, Old Dominion will then host Texas A&M University-Commerce. The other three home games will be Sun Belt conference matchups against a traditional conference powerhouse in Appalachian State on Oct. 12, the defending East division champions in Coastal Carolina on Nov. 4, and Georgia State on Nov. 25, which is the Saturday after Thanksgiving. 
2023 season tickets are available and start off at $150 for ODU's six home games next season with free parking included. The deadline for renewing season tickets is May 1.