History Making Season for Jason Henderson & ODU Football
This article first appeared in the spring 2023 Mace & Crown magazine issue.
Finishing the season with a 3-9 (2-6 Sun Belt) record was not the outcome that ODU faithful wanted for the 2022-2023 ODU Football program. There was a lot of buzz throughout the 757 area because the Monarchs had their best home football schedule ever, with multiple in-state foes coming to Norfolk. The Monarchs welcomed the Virginia Tech Hokies to open the season and went on to win the contest 21-17, resulting in thousands of fans flooding the field. ODU met Liberty, James Madison, Georgia Southern, Marshall and Arkansas State at S.B. Ballard field, but the Monarchs finished 2-4 while 1-5 on the road. 
Although the team's performance fell short of expectations, there were still many highlights, such as linebacker Jason Henderson's historic season. Henderson is a junior at ODU and is majoring in exercise science and physical education. He was a three-star recruit out of Delaware Valley High School who set a school record for 529 tackles in his four years at Delaware. He also tallied 80 carries for 762 yards for ten touchdowns as a senior and was ranked No. 24 in the state of Pennsylvania and No. 60 linebacker across the country. Jason was named Scranton Defensive Player of the Year twice, along with all-league, region and Class 6A all-state accolades. He was also named All-State linebacker for the state of Pennsylvania in all classifications. 
Henderson's individual performance on the field for the Monarchs defense has been pivotal to its success, but this past season, he took it further. He finished the season with 186 tackles–the most in college football. The No. 2 tackler in the nation, Cedric Gray of North Carolina, was behind Henderson by 49 tackles. Tallying 186 tackles is not something you see often and was the third most in FBS history. Lawrence Flugence's (Texas Tech) 193 tackles in 2002 and Luke Kuechly's (Boston College) 191 tackles in 2011 are the top two leaders in tackles. Henderson averaged 15.5 tackles per game this season which was also third most in FBS history behind Keuchly's 15.9 (Boston College) per game in 2011 and Rick Sherrod's (West Virginia) 15.6 tackles in 2001. 
Henderson recorded double figures in tackles in 11 out of 12 games and is the only player in the country to have multiple 20+ tackle games this season. He led the team with 10 tackles for loss along with a sack and three pass breakups. Along with that, he broke the Monarchs' single-season record for tackles in the eighth matchup of the season versus Georgia State. In the tenth game of the season, Henderson also broke the Sun Belt Conference record. His extraordinary performance throughout the season has warranted him many accolades. 

In December, after the conclusion of the 2022 season, Henderson was named a second-team All-American by the Football Writers Association of America (FWAA). Being selected for this honor earned ODU football its first FBS All-American. Henderson is the tenth player to earn All-American honors for Old Dominion. He joins the list with former FCS All-Americans punter Jonathan Plisco (three-time), long snapper Dustin Phillips, defensive tackle Ronnie Cameron, quarterback Taylor Heinicke, wide receiver Nick Mayers, long snapper Rick Lovato, defensive tackle Chris Burnette and linebacker Craig Wilkins.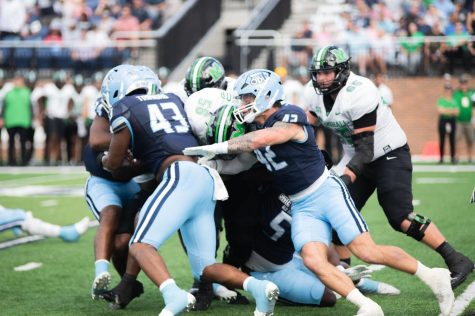 Henderson also earned his second All-American honor of the year after being named a third-team All-American by the Associated Press. That was not all; Henderson was named a second-team All-American by Phil Steele and Fox Sports as well. He was selected to four All-American teams. 
Henderson has already had a storied career in the blue and silver, and he will be returning to Old Dominion for the upcoming 2023 football season. The Monarchs will be losing tight end Zack Kuntz and offensive lineman Nick Saldiveri as they prepare for the NFL Draft. In early February, both members were invited to the NFL scouting combine that takes place from Feb. 28 to Mar. 6 in Indianapolis. It was the first time that Old Dominion had two players invited to the combine since 2019 when Travis Fulgham and Oshane Ximines participated.
ODU football hopes to shake off last year's disappointing season as they prepare for ACC powerhouse schools like Virginia Tech and Wake Forest in the first two games of the regular season. The Monarchs travel to Blacksburg on Sept. 2 to take on the Hokies before hosting their home opener at S.B. Ballard Stadium on Sept. 16 against the Demon Deacons. The Monarchs will also welcome Appalachian State, Coastal Carolina, the University of Louisiana, Georgia State and Texas A&M-Commerce. 
Leave a Comment
About the Contributors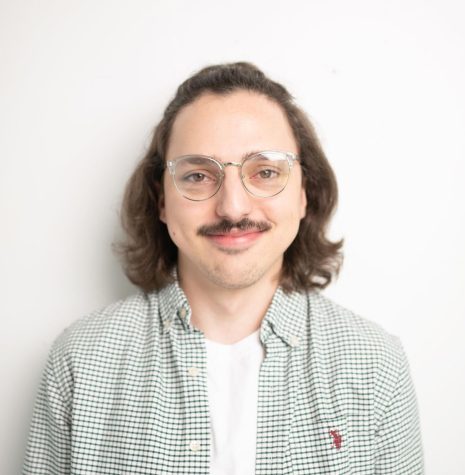 Benjamin Draper, Sports Editor
Benjamin serves as the Sports Editor for Mace and Crown. He is a sophomore who majors in Communications, more specifically 'Media Studies' along with...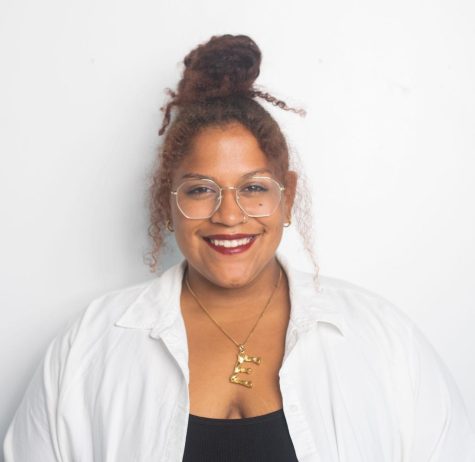 Elena Harris, Photography Editor
Elena Harris is a speech pathology major and photography minor graduating in the spring of 2023. Outside of the Mace and Crown, Elena enjoys the ODU experience...