Eight Blocks from ODU, a Community Center is Being Built
This article first appeared in the spring 2023 Mace & Crown magazine issue.
Along the ever-bustling traffic of Hampton Blvd. and just a few streets down from Old Dominion University sits a chain link fence cordoning off a construction site. The fence is plastered with posters labeling the site as "The Railyard at Lambert's Point." The tops of buildings are just visible from the street. Questions have begun circulating about this fence and what  hides behind it at Hampton Blvd. and W 26th St.  
The Railyard at Lambert's Point is to be a historic space repurposed into a community area, akin to a shopping center or town square. Richard "Rich" Meredith, one of the developers for the project,  said that his company plans to bring in a "mixture of office, retail, and restaurant tennants, with a healthy mix of national, regional, and local businesses." The site also features a courtyard with "substantial greenspace that will be leveraged for the community." Future plans for the courtyard may include a pumpkin patch or a farmer's market.
The history of the project also reflects the community-centric space. Out of the ten buildings under construction, four are historic buildings. According to Meredith, this means that the developers will be "utilizing historic tax credits to restore buildings to the original character." By keeping exposed beams and original brick, the developers intend to maintain elements consistent with 1940's architecture. 
Meredith spoke of the buildings with an intimate knowledge of what they've been and how they've changed. The Hogshire building was constructed in 1940 and became the home of Hogshire Industries. Originally they produced sails with which sailboats glided across the oceans and bays surrounding Norfolk. Some time after, Hogshire Industries decided to switch gears and began creating awnings for homes and business. 
The oldest building in the project, the Mini Storage building, was built in 1925. Meredith said that it is "one of a few 'mass timber' buildings left in Norfolk today." This means that it was built with bonded layers of wood that are exceptionally strong and durable, especially in comparison to light-frame construction. According to Meredith, the building has had a range of uses over the years, including dry storage, laundry, and self-storage. 
"I'd like to have a plaque placed on each building noting the history of that building," said Meredith. "We will begin that process once construction is complete."
Meredith explained that there exists a "rich history dating back to the Lambert's Point docks," which is where ships dock to import and export cargo. This, coupled with the project's location within Norfolk's Railroad District, is how the name of the development was conceived.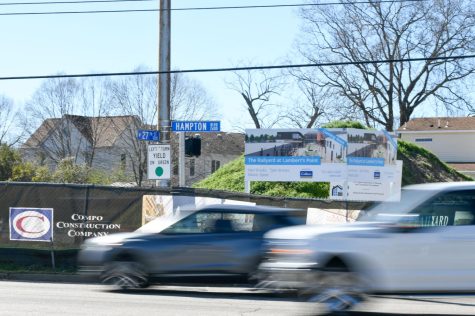 The developers at Meredith Construction have lived and worked in Norfolk for four generations; one hundred years. 
"My great grandfather started his business building homes for GI returning to Hampton Roads from WWII," said Meredith.
Richard Meredith also spoke of how Meredith Construction has "owned the historic buildings along Hampton Boulevard in the Lambert's Point neighborhood for many years." In 2018, the company began collaborating with a developer from Charlotte, North Carolina that became a partner for the project. The larger developer, listed on the Railyard's website as CCB Railyard, "shared [Meredith Construction's] vision of saving the historic structures, converting them to retail space, and building new structures around them."
CCB Railyard and Meredith Construction have been working on the Railyard for the past five years, though for two of those years the project was on pause due to the COVID-19 pandemic. Meredith said that the development has been "stronger post-COVID." 
In July of 2022, the Railyard broke ground. Meredith said that most of the spaces in the construction will be "open and operational around football season of 2023." 
"[I am] excited to get going, revitalize the buildings, and design a space where [I] want to be."
For more information, visit www.railyardatlambertspoint.com