Two Day Festival at ODU Will Feature 20+ Bands
YES Fest, a two day music festival, will be coming to ODU campus on March 20-11. It will feature more than 20 local and regional bands.
A joint effort between ODU Arts and LAVA Presents, YES Fest will be at the Gordon Art Galleries and Goode Theatre. Doors open at 5 p.m. on March 10, and music starts at 5:45 p.m. On the 11th, doors will open at 3:30 p.m., and music will start at 4:15. 
The festival is family friendly and open to the public, and even has its own Spotify playlist. Profits from the event will benefit Wings Over Leukemia & Lymphoma.
Cullen Strawn, ODU's executive director for the arts, said that among planned events are a market, a zine workshop, and a community kirtan led by assistant professor Dr. Mica Deckard.
"For several years I have been in discussions with Josh Coplon of LAVA Presents about collaborating on a multi-day event in some of our venues, with music and accompanying activities that would feature area talent and appeal to our students and surrounding communities," Strawn said.
YES Fest came together organically over several years," said Josh Coplon, owner of LAVA Presents. "LAVA has held several shows at Goode Theatre since 2018 and every show has been a real treat for the bands and fans alike. There's also been an ongoing conversation between LAVA x Arts at ODU on how to figure out a way to get ODU students more involved in the local music community."
"I absolutely believe that there are students at ODU that like bigger bands in the same scenes as a lot of the bands LAVA is booking and if they were familiar with LAVA Presents, YES Fest or any of the other concerts and events happening locally, they would discover new music, largely local and regional that they can listen to and come out to see live throughout the year."  
The lineup includes:
Palm Palm
Community Withc
Obscure Son
Holy Roller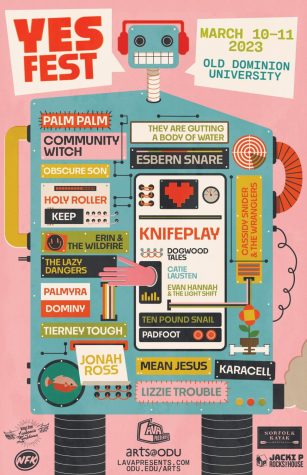 Keep
Erin & The Wildfire
The Lazy Dangers
Palmyra 
Dominy
Tierney Tough
Jonah Ross
They Are Gutting A Body Of Water
Esbern Snare
Knifeplay
Dogwood Tales
Catie Lausten
Evan Hannah & The Light Shift
Ten Pound Snail
Padfood
Mean Jesus
Lizzie Trouble
Cassidy Snider & The Wranglers 
Karacell
"I … tried to make sure the line-up included both local bands and regional bands, to help bridge the gap between our neighboring scenes, such as Richmond," said Coplon. "Some of the bands are touring and YES Fest lined up with their dates. [There are] nine bands representing the Richmond music scene [and] 10 bands representing the 757 music scene. I've worked with a lot of the bands on YES Fest previously but there are also a lot of new groups that we are excited to have in the mix!
While talks of an event have been ongoing for years, LAVA Presents and ODU Arts have been working together to make YES Fest happen since December. 
Tickets for ODU students start at $7 per day, and general admission starts at $25. Tickets can be purchased online here.