Women's Basketball Defeats Georgia Southern 67-50
February 11, 2023
Lady Monarchs Defeat GA. Southern 67-50; Have Won Nine of Last 11 Games
Thursday night provided a glimpse into what the women's basketball team can do when faced with adversity. The Lady Monarchs came into the evening at 16-9 (8-4 Sun Belt, with a five-way tie for second place). Their opponents, the Georgia Southern Eagles, arrived at 15-6, (7-5 Sun Belt). At the close of the evening, the Lady Monarchs sent the Eagles home with a decisive win of 67-50. 
This win was anchored on the defensive end. The Lady Monarchs were able to keep Georgia Southern to a season-low in points at only 50. Their average is 83.9 points per game. The Lady Monarchs also kept the Eagles' guard Terren Ward to an abysmal 1-12 from the field and only six points, knocking her off the top of the PPG leaderboard and into a tie with James Madison's guard Kiki Jefferson.
Overall, the Eagles did not put on an astounding offensive performance, as they shot 28.8% from the field.
"I think a lot of that was because of our defense," ODU head coach DeLisha Milton-Jones said.
"We have a lot of respect for her," Milton-Jones added when asked about Eagles' guard Ward. "We know we can't stop her from shooting, but we tried to dictate when and where she got to shoot.
"She's so deadly. We had to make sure that one person wasn't responsible for stopping her. It had to be a communal effort."
The Lady Monarchs helped anchor the defense throughout the evening, gaining five steals and a Sun Belt Defensive Player of the Year nod from their head coach. 
The Monarchs started slow on the offensive end. They fell behind in the first quarter 10-6 and were not shooting great. However, the Lady Monarchs clawed their way back, bringing the score to 14-10 thanks to graduate student forward Jatyjia Jones, who scored five straight to end the first ten minutes. 
"
She's so deadly. We had to make sure that one person wasn't responsible for stopping her. It had to be a communal effort.
— Coach Milton-Jones
The second quarter continued the ODU momentum as the Lady Monarchs continued to find the bottom of the hoop, but never quite getting too far out of Georgia Southern's reach. The Lady Monarchs went on a 10-0 run to end the half, giving them an eight-point advantage at 29-21 headed heading into the locker room.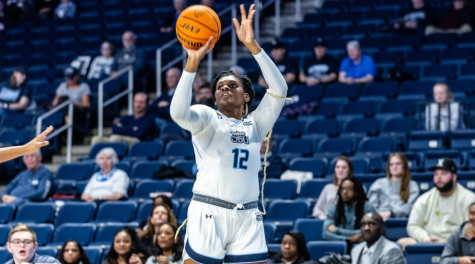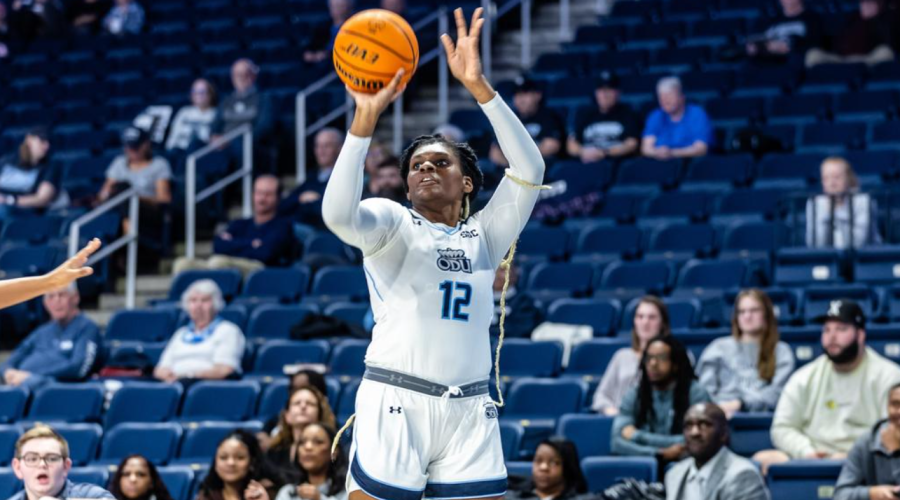 The second half was a different story. Milton-Jones' squad came out ready to play. Good ball movement between graduate student guard Mia Dickens and junior center Jada Duckett led to a picturesque layup for Duckett, bringing the score to 35-29 with 6:28 remaining in the third quarter. 
Following this, it became the Brianna Jackson show. The senior forward came off the bench and made her presence known as she made a layup, drew a charge, made a three to make the score 40-29, and blocked a shot, forcing a Georgia Southern player to foul out of sheer frustration and a subsequent Eagles timeout. Jackson was given a standing ovation from the crowd of 2,161 and mobbed by her teammates. 
The Lady Monarchs never looked back. They went on a 12-0 run and brought the lead to 21; a deficit too great for the Eagles to overcome.
The Lady Monarchs shared the wealth as Dickens contributed 14 points off the bench followed by guards Jordan McLaughlin and Jones, who both had 11 points.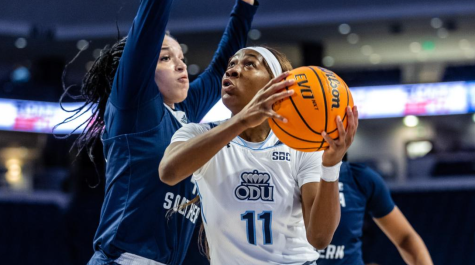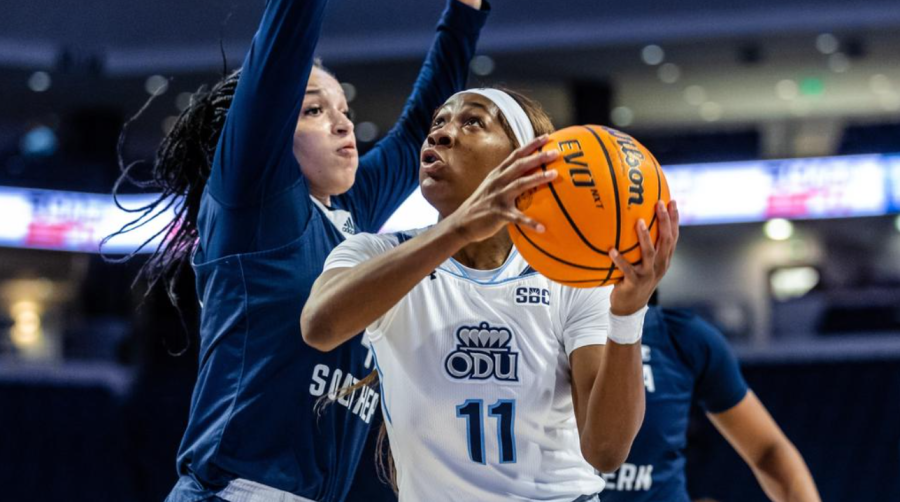 Jackson's performance included nine points, four rebounds, two assists, a steal, and a blocked shot. 
Jackson said that just before she took the floor, head coach Milton-Jones "looked at me and said, 'I need the dog to come off the porch. I need some fire, Bri." 
"I told her, 'I've got you, I've got you.'"
And she did.
Leave a Comment
Lady Monarchs Stay Red-Hot and Roll Past Georgia Southern 67-50
On Thursday, Feb. 9, the Old Dominion Lady Monarchs (17-9, 9-4 Sun Belt) took on the Georgia Southern Eagles (15-7, 7-6 Sun Belt) at Chartway Arena, in what was anticipated to be a tight ball game. In their last matchup nearly a month ago, the Lady Monarchs prevailed in an 84-82 overtime victory. This go around, they triumphed once more, by seventeen points (67-50), putting the expectations of a close victory to rest.
The game started off close in the first and second quarters. In the first quarter, it was a low-scoring game and the Lady Monarchs outlasted the Eagles with a score of 14-10. ODU's poor scoring hampered them, but their defensive effort allowed them to keep the Eagles down. They held Georgia Southern to just eight field goals and four three-point attempts. ODU shot 31.6% from the field and 20% from behind the arc. Their defensive effort made up for the low shooting percentages, as they scored twelve points off of eleven forced turnovers.
Going into the second quarter, the game remained close, with ODU once again only outsourcing their opponent by four points (11-15). The main contributor was poor shooting again, but this time by both teams. Field goal attempts were about the same; ODU took 14 shots and only made four, while Georgia Southern took 15 and only made two. ODU ended the first half on a good note as graduate guard Makayla Dickens hit a three at the buzzer. This increased their lead to eight (29-21) going into halftime.
Though ODU's shooting percentage was bad in the first half, the way they kept their counterpart to a low shooting percentage is of great note. Georgia Southern averages a team field goal percentage of 44%, but ODU held them to 28.8%. Additionally, the Eagles average 80 points per game, but ODU only allowed them to score 50. Georgia Southern's leading scorer Terren Ward was also held to six points and shot 1-12 from the field. This shows excellent growth on the defensive end for ODU.
When asked about her thoughts on their defensive growth, Milton-Jones said, "I feel very good about the growth of our defense. With each and every practice, and every experience we have in live game action, it has allowed us to really fortify who we are. We have a true identity." 
"
"Every experience we have in live game action… has allowed us to really fortify who we are. We have a true identity."
— Coach Milton-Jones
She added that her team knows the schematics of what they like to do and understands how to do their jobs when communicating. 
"We're seeing a better product put on display and we're able to hold a very high-powered offensive team well under their average," she stated.
Heading into the second half, it was all Lady Monarch basketball. They controlled the rest of the ball game from the third-quarter inbound to the fourth-quarter buzzer. The Eagles never maintained a lead; the Lady Monarchs held it for 19 minutes and 1 second. 
Senior forward Brianna Jackson said that during the halftime talk, her team discussed how they needed to flip the game around, since they knew the first half was not representative of who they were. Flipping the game around is exactly what they did in the second half, and she was a main contributor to that.
Towards the middle of the third quarter, Jackson put on a stellar thirty-nine second performance. In that span of time, she made a layup, drew a charge, drained a three pointer, and blocked a shot, getting the defensive rebound thereafter. Her tenacious effort got the crowd fired up and put her team up 40-29. Two seconds later, Georgia Southern's head coach Anita Howard had no choice but to burn a timeout. The timeout did not help, and ODU went on a 12-0 scoring run to take a 21-point lead (52-31). The lead would soon get trimmed to seventeen as the quarter ended 52-35.
Regarding her thirty-nine second run of consecutive great plays, Jackson stated that head coach DeLisha Milton-Jones got her going. "Coach D looked at me and said 'I need the dog to come off the porch. I need fire, Bri'." 
Jackson finished the game with nine points, five rebounds, and two assists, along with a block and a steal. Once again, Jackson and the rest of the Lady Monarch bench helped lead the team to victory at home with another shining performance that scored thirty-two points.
The same momentum in the third continued into the fourth as ODU took the 67-50 victory and increased their win streak to four again. This is the third time this season that they have had a four-game win streak. In addition, this win ties them for second in the Women's Basketball Sun Belt Conference. 
For the fans, being high in the standings may sound great, but Milton-Jones is not fazed. She is concentrating on getting her team ready for the conference tournament.
"We want to take care of our business and continue to grow. So that when we get the opportunity to play when it really matters the most, we are going to hit the mark. That's my mindset." 
She further noted that the team does peek at the standings, but they are not going to hang their hat on every win and loss.
This Saturday, the Lady Monarchs will look to continue their win streak when they host Sun Belt opponent Georgia State (10-16, 4-9 Sun Belt) at 2 p.m. at the Chartway Arena. The theme for the game will be Hoops for the Cure to celebrate breast cancer survivors, their families, and the fight to find a cure for breast cancer. 
Coach Milton-Jones wants the fans to come out as she and her team love the fan support they receive and look for it to grow even bigger. 
"We need everyone to come out on Saturday. Pack the arena. We want you loud and proud. So come on down and support the Women's Basketball Program. It is 'Play for K night,' support a good cause at the same time," she said. 
Currently the Lady Monarchs lead their Sun Belt Conference opponents in Basketball attendance with an average of 2,456 fans per game.
Leave a Comment