First Annual Monarch Short Film Festival Seeks Submissions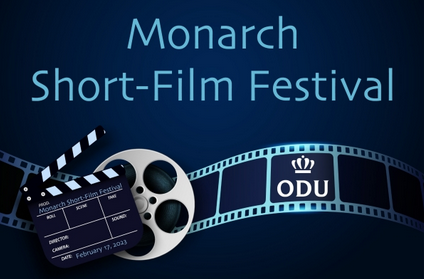 The first annual "Monarch Short-Film [sic] Festival"  is accepting submissions until Jan. 30, 2023. According to the festival's webpage, this "annual event will showcase and highlight the work of ODU Film Students and Alumni."
To be eligible to compete, student short films must have been completed between Jan. 1, 2022 and Jan. 30, 2023. They must be 20 minutes or less in length. Films must fall under the genres of fiction, documentary, or animation. These categories are open only to enrolled ODU students. There is a separate category for submissions from ODU alumni.
All submitted films will be scored by a jury. The top scoring films will be shown at the University Theatre on Feb. 17 from 7 p.m. to 9 p.m. Admission to the event is free. Filmmakers whose submissions are chosen to be shown will be notified by Feb. 10.
Winners in the categories of fiction, documentary, animation, alumni, and overall best film will be announced after the showing. The audience will vote on site to select the winner of the "Best Student Film by Popular Vote" category.
The festival's webpage provides a glimpse into how films will be scored: "The members of the jury view all short-films entered and mark all entries 10, 9, 8, 7, or 6 with the guidelines of 10 (excellent), 8 (good), 7 (fair) or 6 (poor). The movies receiving the highest number of points in each category…are awarded the top prizes. The film with the highest number of points overall [(not including the alumni category)] is awarded the Best Student Film Overall."
There is no submission fee. The submission page can be found at this link. Questions can be directed to [email protected].