ODU Football Welcomes Cuddly Companion: Hudson!
This article first appeared in the fall 2022 Mace & Crown magazine issue. 
The Old Dominion football program's transition into the Sun Belt Conference after joining the league in March 2021 has marked a new era for ODU Athletics. With the switch in conferences, some changes have been made behind the scenes which have sparked local and national interest, such as the welcoming of a furry new member, Hudson, as ODU football's new unofficial mascot. 
When you look around the college football nation, you see many canine mascots. You have mascots like Smokey at the University of Tennessee, Reveille at Texas A&M, Uga X at the University of Georgia, and Tuffy the "Wolf" at N.C. State University. The Monarchs are known for their mascot "Big Blue," which is a furry lion mascot costume worn by a student, but they'll have a new member joining the team for the next two seasons.
Hudson, a 15-week-old yellow Labrador, was given to head football coach Ricky Rahne as a Father's Day gift from his wife Jen Rahne. Initially, Coach Rahne was against the idea because they had enough dogs in the household already, but hundreds of refusals from Ricky could not thwart his wife's inevitable victory.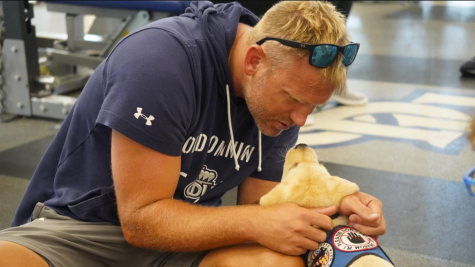 Jen received Hudson through her connection with Brooke Corson, a veteran and the executive director of the Norfolk-based Mutts With A Mission, which was founded in 2008. They met through their son's lacrosse team. Mutts With a Mission is a non-profit organization that trains service dogs at a cost of about $60,000 each. Over an 18-month period, they train the dogs to perform tasks ranging from retrieving items by name and helping their handlers stand up to medication reminders and turning on the lights. During their first two years of life, the pups are well-socialized and learn their manners. When the dogs reach their second birthday, the organization provides them to veterans in need. Hudson will find a permanent home after his two-year stint with ODU football. 
When Brooke surprised Coach Rahne with Hudson's birth certificate on Father's Day, he didn't seem thrilled at first, but he now loves Hudson deeply During the summer workouts, Hudson was brought into the weight room along with eight other puppies and was chosen from the litter with the help of several football players. "The guys were flocking all over them," Jen stated. After taking pictures and playing around, it was time for the dogs to leave with their trainers only one puppy refused to depart. That was when everyone knew that this puppy was the one. The puppy was named Hudson. "Hudson stood right there next to our guys, so he already knew he was with us," said Ricky Rahne. At the end of the day, Hudson chose the Monarchs as much as they chose him. 
He is named for the color Hudson Blue, which is a light blue the Monarchs sport on special occasions throughout the year. The alternate team color was named after long-time Old Dominion Sports Information Director, Carol Hudson. For the next two seasons, Hudson will be accompanying the Monarchs and brightening up everyone's days."Seeing Hudson is a great little moment to maybe bring back some humility into things when maybe you haven't had the practice that you wanted or you had a great practice and all of a sudden having a puppy in your hands brings a little humility to you," Ricky mentioned. Hudson has truly shone inside the locker room and around the ODU community. 
The plan is to have Hudson attend as many games as possible, whether at home or on the road. So far this football season, Hudson has attended every game, including road trips to Charlottesville, VA, and Greenville, N.C. There has been speculation that Hudson can be trained to retrieve the tee after kickoffs. Not only is Hudson involved in the football program, but he has been all over the place in ODU Athletics. You can spot the pup at various locations on campus mingling with other ODU athletic programs like field hockey and lacrosse. The puppy constantly attends L.R. Hill Sports Complex to hang out with ODU athletics.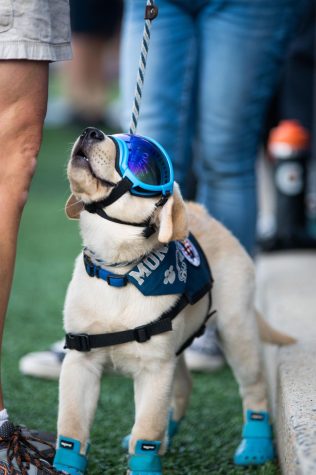 The football players cherish their new team mascot and are glad he was the one chosen. I adore Hudson. As soon as he enters the room, he makes everybody's day a little bit brighter. "Everybody simply grins," junior wide receiver Ali Jennings III stated. "Everybody picked Hudson. He's been that guy from the first time we saw him." "He's a cool dog. Everyone loves the idea of having a team dog," junior running back Blake Watson said. 
Hudson is taking the college football world by storm with his cuteness. There was an instance earlier this season when Hudson was denied the privilege to be on the field for the ODU vs UVA game in Charlottesville, but thanks to Twitter, the news of Hudson's rejection gained traction and took off. Lots of people in the ODU community and college football world took to social media to express their disappointment that Hudson was not allowed to be there to support his team. Eventually, Hudson was granted his field access and things were set right. In the home opener against Virginia Tech, Hudson had the national spotlight on him when the game was broadcast over ESPN networks and he wore his cute little puppy crocs and blue-shaded goggles. One could say that Hudson is one of the new faces of ODU. 
Who would have thought that Hudson was going to have as much success as he has so far? This little puppy is going to be around a passionate sports community for his first two years before finding a permanent home with a veteran. Hudson has become a fan favorite and a Twitter star in only the first half of the football season and will continue to shine in the spotlight. Regardless of what happens for ODU football this year, one thing is for certain, the players and coach Rahne will have a cute little puppy to fall back on through the ups and downs of a stressful season.
Leave a Comment
About the Contributors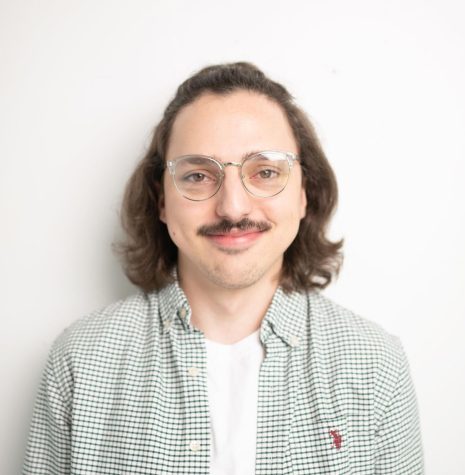 Benjamin Draper, Sports Editor
Benjamin serves as the Sports Editor for Mace and Crown. He is a sophomore who majors in Communications, more specifically 'Media Studies' along with...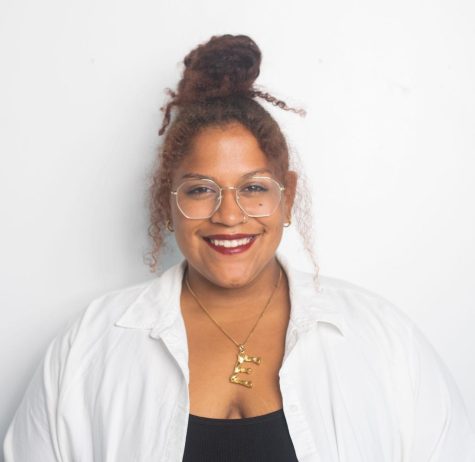 Elena Harris, Photography Editor
Elena Harris is a speech pathology major and photography minor graduating in the spring of 2023. Outside of the Mace and Crown, Elena enjoys the ODU experience...