Lavender Locals: Reintroducing Norfolk's LGBTQIA+ Watering Holes & History
November 15, 2022
This article first appeared in the fall 2022 Mace & Crown magazine issue. 
Twinkling rainbow lights trace the bar's silhouette at MJ's Tavern, a legendary watering hole and queer safe haven just five minutes from Old Dominion University's campus. 
It's only been a decade since the doors first opened in 2012 – sooner since their staff painted an iconic rainbow walkway at the entrance – but MJ's Tavern has quickly become a hub for Norfolk's LGBTQIA+ community members and allies, diversifying the local menu of queer-friendly bars. 
"Local queer history is important because it fills the gaps in the larger story of queer history," says ODU professor Cathleen Rhodes, a senior lecturer in the Women's Studies department. "It connects students to places, people, and events that happened right where they stand. You can't throw a rock in Norfolk without hitting a spot touched by queer people at some point."
From The Wave to 37th and Zen, Norfolk has long been recognized for its wide variety of gay bars, serving as a home to some of the state's most notorious LGBTQIA+ activists. But time has witnessed many of the city's queer businesses and coalitions deteriorate, placing the pressure on younger generations to cherish and uphold its rich history.
"This city was a hot spot for queer life in the '70s, '80s, and '90s," Rhodes continues, herself a Hampton Roads native. "It was known as the place to find other queer people… I want ODU's queer students to know that they are standing among many sites of queer history, and that they can draw from that history in ways that feel supportive, challenging, and empowering."
Norfolk's own Hershee Bar, the oldest lesbian bar in Virginia, was demolished in 2019 after the city bought the land with intentions to "revitalize." Similarly, an EVMS parking lot occupies where Shirley's Place once stood, a woman's bar attracting lunch crowds by day and local lesbians by night. As of 2022, only 24 lesbian bars remain open throughout the United States, with Babes of Carytown being the closest at 80 miles northwest of campus in Richmond.
"[Spaces like these are] crucial because they create spaces for queer people to connect and cultivate community," says Andrew Garber, ODU's coordinator for LGBTQIA+ programs and initiatives. "Restaurants, shopping malls, universities– [they're] not made for us. They're not made for us intentionally in mind."
Garber themselves grew up in Hampton Roads, leaving only for a brief time in college. The curation of their position as a coordinator for LGBTQIA+ initiatives is partially informed by their personal experiences in the area, specifically the city of Norfolk. 
"Fairgrounds was a coffee shop where the gay teenagers would hang out and find community," they recall. "This was before Grindr – before anything – so a lot of it was word of mouth… I started getting the circuit through that." 
Garber would inevitably graduate into The Wave, an LGBTQIA+ dance club on Colley Ave., upon turning 18. Thursday and Saturday nights found a diverse range of young queer people lining up to sweat under strobe lights, building a stronger community with each connection they made. Operating hours, however, were not exclusive to weekends. 
"In college, I would go to The Wave on Thanksgiving night," Garber explains. "They would stay open for us so that we had a place to go. MJ's [Tavern] does the same thing… There's a culture of 'We stay open on holidays intentionally to provide a space for those who do not have a home to go back to,' which is really beautiful."
Similarly, giving back to the community by hosting events for local queer organizations has become a cornerstone for every LGBTQIA+ establishment still operating in Norfolk, though this practice is nothing new. Hubs like Shirley's Place often hosted queer artists and musicians, joining the Norfolk Coalition for Human Rights in 1979 as a means to serve the needs of the city's lavender locals.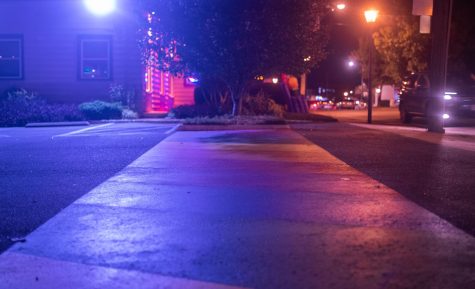 "MJ's [Tavern] pays tribute to many of the bars that came before it," says Rhodes. "T-shirts and memorabilia from Shirley's Place and other local bars line the walls and serve as a reminder that this area has a long history of queer activism and socializing." 
Rhodes herself has taught queer studies at ODU over the last 12 years, placing local queer history as the focal point. 2020 saw the Movement Advancement Project and Campaign for Southern Equality report that more than one third of queer people in the United States live in the south. Yet, the majority of queer history discussions revolve around northern and western cities like New York City, Chicago and San Francisco. Rhodes argues that expanding one's knowledge of national queer history helps us to view a "more complete picture of the lives of transgender people, people of color, poor and working-class queer people, women and gender nonconforming people."
"Local queer history serves as a reminder that the path to liberation is a bumpy one," she notes. "It is helpful to know that people in the past faced similar struggles, and that they developed strategies for combating the transphobia and homophobia they experienced. When we are lucky, local queer history can provide us a roadmap."