Schmalbach Nets Two Goals in Men's Soccer 3-2 Defeat Against Georgia State in home finale
By Art Neal , Associate Sports Editor
November 2, 2022
As the weather grows colder, many of  ODU's fall sports are beginning to wrap up. ODU men's soccer had their last home game of the 2022 season on Tuesday, Nov.1, at 7 pm. This matchup had the Monarchs squaring off against the Georgia State Panthers, who are 11-3-3 and 4-2-2 Sun Belt. Seeding considerations in the Sun Belt tournament were at stake. The Monarchs came into this game at 6-6-2, 3-4-1 in the Sun Belt.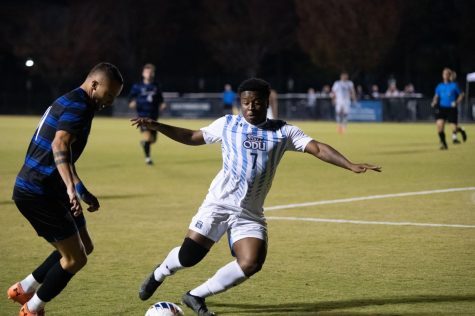 The first-half scoring started early as Georgia State got a corner kick in the 12th minute, which resulted in the Panthers gaining a 1-0 lead almost a third of the way through the first half. Both teams took a fair amount of shots on goal as ODU's keeper freshman Michael Statham made a handful of saves, including an impressive save where he used his foot to redirect the ball. The Monarchs tallied a handful of shots on goal again but could not get one to the back of the net, as many were just wide off the target. In the final minute of the half, ODU had two corner kicks, a throw-in on the far side of the field, and a shot on goal, but once again, it was unable to find its mark.
At halftime, the Panthers led the game 1-0 with eight shots on goal and two corner kicks, while ODU had seven shots on goal and four corner kicks. Georgia State maintained possession of the ball for the majority of the first half, which the Monarchs strove to change in the second 45 minutes of play. 
Georgia State came out of the locker rooms hot, getting a corner in the 48th minute, which led to another goal, putting the Monarchs down 2-0. The Monarchs gained some momentum as forward Jonas Schmalbach found the net off an error by the Panther defense, putting the score at 2-1 Georgia State in the 59th minute. The Panthers, sensing the change in momentum, felt the urgent need to score. They regained their two-goal lead as they scored again in the 64th minute, bringing the score to 3-1. After this, Schmalbach brought the Monarchs back to down one as he scored again in the 74th minute off a rebound from the goalie. This brought the score to 3-2 with just over 25 minutes remaining. Unfortunately for Head Coach Alan Dawson and the company, they could not strike again after the second Schmalbach goal.
When the final buzzer sounded, the Monarchs fell to the Panthers 3-2. Georgia State outshot the home team 17-13, though corner kicks were even at six per side. With this loss, ODU will head to the Sun Belt tournament in Huntington, West Virginia, as the sixth seed. They will have a rematch against the Panthers, the third seed, on Sunday, Nov. 6, at 7 pm.