Journey Through Space at the ODU Planetarium
"Imagine a place where time stands still, where the laws of physics don't apply." 
With these words, dozens of people were sucked into a black hole…documentary called "Black Holes: Journey into the Unknown," displayed in 4K resolution on the 48-foot dome of the Michael and Kimthanh Lê Planetarium. This 121-seat planetarium, located inside ODU's new chemistry building, has been airing shows regularly since September 2021. 
Before the show began, planetarium director Justin Mason stood before the audience and enthusiastically asked them to share their knowledge about black holes. A young boy raised his hand and stated with pride and excitement that "when you're sucked into a black hole you get stretched out, and that's called spaghettification." After overseeing a lively conversation with the audience, Mason further dimmed the lights and started the film.
Vortexes swirled on the screen and frenetic drums started the audience's hearts pounding as the narrator described the bizarre and unnerving sensations a person would experience while being sucked into a black hole. From the discovery of black holes to more recent research, the documentary laid out the subject in an entertaining and easily digestible way. Audiences experience all of this from the comfort of a plush, reclined seat.
When asked why they think learning about space is important despite the apparent distance between the cosmos and our daily lives, Mason and planetarium assistant Shawn Murphy were passionate in their replies. "Humans have always had the need to search, and space is the next frontier," Mason said. Mason and Murphy both pointed out that many of the inventions we enjoy on earth are the product of space-related research, including scratch-resistant glasses, cordless vacuums and global positioning systems (GPS).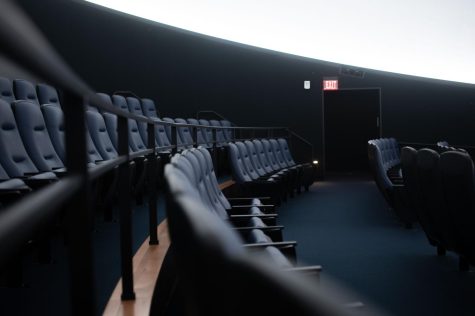 Public shows at the planetarium begin at 7 p.m. every Wednesday with an admission fee of $3. The schedule of upcoming shows is available on the planetarium website. You can catch "Black Holes: Journey into the Unknown" on Nov. 16; other upcoming shows include "Climate Change in Our Backyard" on Nov. 2, "Capcom, Go! The Apollo Story" on Nov. 9 and "Legends of the Night Sky: Orion" on Nov. 30. On Oct. 26, the planetarium will host Kids Night, featuring a showing of Sesame Street's "One World, One Sky," a show geared towards kids of about 4 to 7 years of age.
On the first Friday of every month, the planetarium hosts Bad Movie Night, which features a trivia portion beginning at 6:30 p.m., while the movie begins at 7. "Frogs" will be shown on Nov. 4, a 1972 film which is summarized on the planetarium website with the blurb: "While celebrating a birthday at an island estate, a group of helpless victims comes face to face with killer amphibians, birds, insects, and reptiles."
Parking information can also be found on the planetarium website. Staff ask that no food or drink besides water be brought inside. Audience members should be aware that some films shown at the planetarium may include flashing lights and sequences which may be uncomfortable for those prone to motion sickness.