Rina Sawayama's "Hold the Girl" is a Love Letter to Her Inner Child
"All my life I've felt out of place, all my life I've been saving face." 
This line from "Minor Feelings," the opening track of Rina Sawayama's sophomore album "Hold the Girl",  lets us know exactly what we're in for: an album about defying expectations and finding one's true self. 
The hauntingly beautiful "Minor Feelings" took its name from "Minor Feelings: an Asian American Reckoning," a collection of essays by Cathy Park Hong. In an interview with Apple Music, Sawayama noted "[Minor Feelings] is the name [Hong] gives to this collective feeling that a lot of Asian Americans have about racial microaggressions, and I really connected with that…" There is a juxtaposition between the deep hurt Sawayama feels from the so-called "minor feelings" that plague her every day, and the major mental repercussions that these have caused over time. This is exemplified in the lyric, "All these minor feelings are majorly getting to me now," the first half of which is paired with instrumentation in minor chords, whereas the latter is in major, creating a sense of shifting unease. Though only a scant two minutes in length, "Minor Feelings' establishes that Sawayama is a force of nature lyrically, vocally and musically. 
Sawayama's butter-smooth vocals continue in the next track, the titular "Hold the Girl." This song is a gentle hand outstretched towards Sawayama's younger self: "I won't leave you on your own," she promises. "Hold the Girl" alternates between a powerful ballad in the verses and chorus and an unexpected dance-pop beat in the refrain, making it an uncommon experience to listen to. Anyone who has complicated feelings about their past self will likely feel a twinge in their heart at the lyrics, "Sometimes I just wanna run away, leave behind that old me, start again. Then I remember who I'm really made of, and she's been hide-and-seeking, waiting all alone." The lush, energetic instrumentation coupled with the astute and vulnerable lyricism elevate this song into a heart-pumping anthem that deserves its place as the album's title track. 
"This Hell" bursts onto the scene with a sassy, boot-stomping bassline. By the time Sawayama delivers a cheeky, "Let's go, girls," listeners don't need to be told twice. This song mocks homophobes who use religion as an excuse for their bigotry with casually flippant lyrics like, "Turns out I'm going to Hell if I keep being myself, don't know what I did but they seem pretty mad about it. God hates us? Alright then." In an interview with Genius, Sawayama confirmed that the song is about the discrimination faced by the LGBTQ+ community: "When the world tells us we don't deserve love and protection, we have no choice but to give love and protection to each other. This Hell is better with you," she said, quoting her own lyrics. "This Hell" is also better with Sawayama's infectious, irresistible country-pop groove.
Sawayama continues the theme of religious suppression in "Holy (Til You Let Me Go)." Here, she sings about the bullying and discrimination she faced due to her race and sexuality during her years at Magdalene College, a constituent of the University of Cambridge. "I took your stones and I built a cathedral, found my peace when I lost my religion," Sawayama sings over an addictive Eurodance beat. Though a strong thematic thread binds every track on this album, I saw "Holy (Til You Let Me Go)" as especially closely connected to the song that follows it, "Your Age;" the former is like the lighter, dancier twin to the eerie and seething latter.
"Your Age" is, for me, the most unforgettable song on the album. The track begins with the apprehensive plucking of a banjo, which is soon joined by a percussive synthesized beat. The darkly hypnotic instrumentation and distorted vocals fit perfectly with the simmering rage within the lyrics: "Now that I'm your age, I just can't imagine. Why did you do it? What the hell were you thinking?" Sawayama snarls, addressing a person who abused her when she was much younger than them. "You fucked with my life," she intones before the song fractures into an intense soundscape of clipped, twisted vocals and industrial instrumentation reminiscent of Nine Inch Nails. This cuttingly personal track burrows deep and lodges itself next to the kernel of rage we all suppress inside. 
Just when I thought this album couldn't get much better, "Frankenstein" appeared next on the tracklist– a song inspired by my all-time favorite book. This track is relentless, featuring a quick and anxious vocal style with a frenetic beat so compelling that it's almost easy to forgive Sawayama's incorrect labeling of herself as Frankenstein in the lyric "I can be your Frankenstein," when the rest of the song makes it clear that she is inhabiting the perspective of Frankenstein's monster, not the creator himself. The song presents a raw and fascinating portrait of a person desperate to be fixed; later tracks will document Sawayama's realization that she must fix herself.
"To Be Alive" is a triumphant finale to a fantastic album. Simultaneously soaring and percussive, "To Be Alive" sounds like the song played over the credits of a '90s or 2000s coming-of-age film. In her shiver-inducing, full-bodied voice, Sawayama sings, "I never thought that I'd get this right, but I finally know what it feels like to be alive." This track reveals where an album's worth of soul-searching and trauma confrontation have left Sawayama. She has reconnected with her frightened, hidden inner child and completed her transformation into a whole, truly living person.
The themes of growing up, adolescent trauma and the inner child that bind this album together are reflected in the apparent musical influences of the album. Born in 1990, Sawayama grew up listening to artists who were popular during the '90s and '00s. Ballads like "Phantom," "Hurricanes," and "Catch Me in the Air" are reminiscent of artists such as Kelly Clarkson and Shania Twain, whereas "Your Age" seems influenced by bands like Nine Inch Nails and Linkin Park. The variety of influences, combined with Sawayama's eclectic style, mean that even people who find themselves skipping some tracks on this album might find something that catches their attention. 
"Hold the Girl" is Rina Sawayama's love letter to the child inside her, a child who had to hide her true identity and endure abuse, mistreatment, and discrimination. Though these negative forces are impossible to ever fully leave behind, the Sawayama who has bloomed by the conclusion of the album is bursting with confidence and self-knowledge, ready to face whatever life throws at her.
Leave a Comment
About the Contributor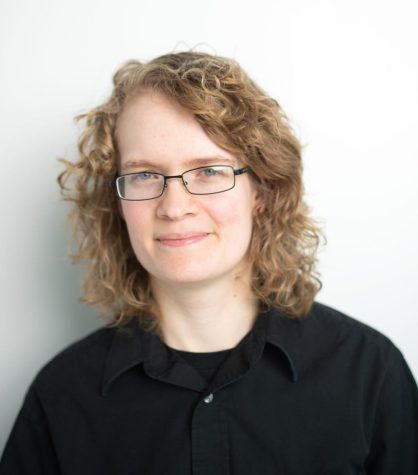 Kat Monnin, Copy Editor
Kat Monnin is an English major and senior who will be graduating in the Spring of 2023. Kat is passionate about creative writing and animal welfare.