Lady Monarchs Open Sun Belt Play With a Series Victory Over Marshall
The Old Dominion Volleyball team returned home this weekend to open up their first conference action of the 2022 regular season with a series against Marshall University. After finishing 1-2 in the VCU invitation with losses to North Carolina and UMBC and a victory over VCU, Old Dominion wanted to write off the non-conference schedule and look ahead to what's essential: Sun Belt play. 
In the first match on Thursday, ODU started off strong in the first set and eventually won 25-13. In the second set, the Monarchs and Herd played back-and-forth, and while ODU held a 21-19 advantage, Marshall found a way to rally to win the set 27-25. Old Dominion found their rhythm again and had the advantage for most of the third set before eventually taking the third set 25-20. 
Going into the fourth set, the Lady Monarchs were on the opposite end of the spectrum, having to dig themselves out of a deficit and try to rally back. When the game was tied at 23, sophomore right-side hitter Myah Conway pulled ODU ahead when she drilled a kill into the floor. Following that, freshman middle blocker Bailey Burgess got the set-winning serve after the Marshall defender mishandled the ball. 
Conway had herself an evening, finishing the game with 18 kills, three blocks, and 22 points that led the way for ODU. Burgess recorded four blocks and 12 kills. Junior outside hitter Tessa Mati and right-side hitter Hailey Duncan both recorded nine kills in the victory. The Monarchs held the advantage in points (76.0-57.0), kills (60-49), service aces (7-4), blocks (9-4), assists (56-43), and outhit the Herd .318 to .181. 
In the second contest between these two schools, Marshall jumped ahead in the first set with an early 7-5 lead before eventually going back and forth with ODU. With the set tied at 21, freshman outside hitter Ashley Peroe put away a ball that gave ODU the lead back. After an error from Marshall, Duncan increased their advantage to 24-21. The Herd answered back with their own score, but Peroe found the opening and got another point to win the set 25-22. 
It was a tight second set as ODU held a narrow 9-8 lead, but the Monarchs got some offense going and eventually pulled away after outscoring the Herd 11-4 to take a firm 20-12 lead. Old Dominion kept their foot on the pedal and went on to win set two 25-17. In the third set, the Monarchs raced out to a 6-1 lead, but the Herd trimmed it down to 13-11. However, consecutive errors by Marshall and back-to-back kills from Peroe and Duncan allowed ODU to increase their lead to 17-11. Both teams then traded points for the remainder of the set and a 25-18 final gave ODU the set and the match. The Monarchs finished the series 6-1 in sets against Marshall and began their conference play in an impressive fashion. 
With both victories, the Lady Monarchs evened the all-time series between themselves and Marshall to 3-3. This marks the first time in program history that ODU starts conference play 2-0. They improved their overall record to 7-8 (2-0 Sun Belt).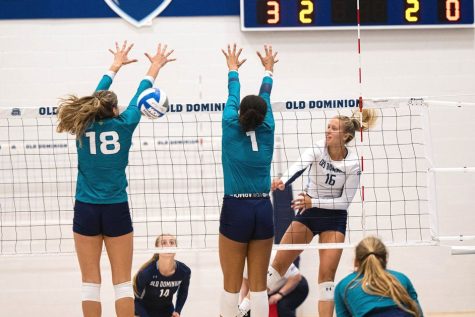 After the matches, head coach Fred Chao shared some of his thoughts on the series' outcome and how important it is to play their type of match. "It feels great, but as Coach Ricky Rahne says, it feels good to be 1-0 today," head coach Fred Chao said afterward. "Yesterday was an excellent step for us, today was a bigger step for us. To establish our level of play and know that it's good enough to beat a team like Marshall. They're a great team, they beat us a lot last year. So I know we're making improvements and it's good to see it pay off."
Old Dominion hits the road for Georgia this weekend as they hope to extend their winning streak with a series matchup against Georgia Southern. Game one against the Eagles will be on Friday, Sept. 30 at 6 p.m. The second matchup is on Saturday, Oct 1 at 1 p.m. The following weekend, ODU will travel up to Harrisonburg, VA to play against their rival James Madison before returning to Norfolk on October 14th.