Clairo, I'm Sorry
An Open Letter to, and Apology on Behalf of, My Fellow Concert-Goers
Julien Baker, girl in red, The Japanese House, and Lucy Dacus. Snail Mail, Phoebe Bridgers, Marika Hackman, and Soccer Mommy. Alvvays, Courtney Barnett, Frankie Cosmos, and Sharon Van Etten. If one were to peruse the "Recently played artists" section of my Spotify, it's clear that I listen to female indie musicians, or as the spunky teens have coined them "the sad girls of indie," almost exclusively. Admittedly, however, my love for artists who seem to excel in cunning lyricism and instrumentally driven melancholic yearning is not without notable gaps. 
In conversations with friends surrounding favored musicians and record releases, I've met the occasional shocked expression after mentioning how I don't consider myself a fan of Mitski, though "Francis Forever" is a great song, and I've received a passive scoff once or twice because I don't believe that Japanese Breakfast's "Jubilee" was one of the best records of 2021. What seems to unnerve the cuffed corduroy pants-wearing, fisherman beanie-adorned clan of millennials the most, though, is that I have never been, and likely never will be, a fan of Claire Cottrill, better known as Clairo. 
While my apathy towards Clairo may stem from some psychological desire to be a manic pixie dream girl who can't get on board with supporting a rumored industry plant, it is necessary to note that I have tried listening to Clairo's music in a whole-hearted effort to understand what it's all about, to feel captivated. When I accepted that her 2019 release, "Immunity," isn't my preferred sound, I waited to see what else she had in store, both sonically and lyrically, for future projects. With the release of her 2021 album, "Sling", I was pleasantly surprised by the genre shift from synthy bedroom-pop into more stripped-back, piano-driven subtlety that showcases Clairo's versatility as a singer-songwriter, but there was still something missing. Something that actively prevents me from considering myself a fan of her work.
In openly acknowledging that I am not a Clairo fan, it would be safe to assume that I would have no interest in seeing her perform live, right? 
I thought so too, but apparently, I don't know myself at all. 
When Clairo announced her North American tour for "Sling" in January 2022, my indifference towards her did not prevent me from agreeing to see her live at The NorVa with a close friend of mine. I told myself that I was mainly going for the opener, Arlo Parks, but there was an underlying curiosity regarding whether or not a live show would change my opinion of Clairo as an artist, for better or worse. And the ticket was free.
It was cold and damp on the night of the show, typical of a February evening in Norfolk. I've been to The NorVa a number of times, so the standard rundown of security measures and I.D. checks performed by burly, bearded men with faded tattoo sleeves felt routine and predictable. After the itchy paper bracelets used to indicate age were distributed accordingly, the line wrapping around the building slowly diminished, and we trickled into the venue. Comparable to most shows, the venue was dark and initially overwhelmed by a sea of anonymous bodies and voices. Once my eyes began to adjust and I regained the ability to focus on more minute details, however, I noticed a similarity shared by the majority of those around me. Most concert-goers had semi-permanent sharpie "Xs" scrawled on their hands and neon green, duck patterned bracelets wrapped a little too tightly around their wrists. The majority age demographic for this show was under 21, mostly teenagers, many of whom were accompanied by their parents. The remainder of the crowd consisted of some die-hard fans who successfully shoved their way to the front of the stage in hopes of gaining recognition from Clairo, and the thirty-something-year-old men with naval aviator porn-staches who were clearly in attendance because there was nothing else better to do on a Monday night.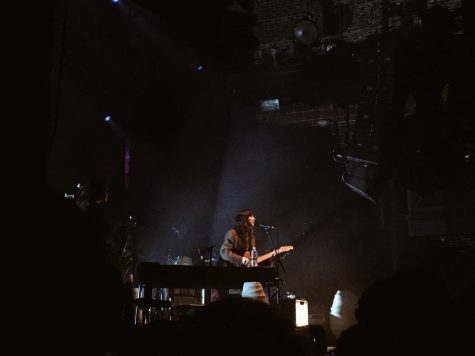 Thankfully, not long after purchasing a severely overpriced shitty American beer and finding a permanent viewing spot near the left-wing of the venue, Arlo Parks excitedly made her entrance and started her set. Before the show, I knew very little about Arlo Parks, just that she's British and was touring her 2021 release, "Collapsed in Sunbeams." Dressed casually in tennis shoes, basketball shorts, and an oversized white t-shirt, it was evident that Arlo Parks would be doing a lot of moving. She's by no means a static performer. From the first song, the energy of both the performance and the crowd vastly superseded any preconceived expectations. It was apparent that those who came early were there to see Arlo Parks and behaved accordingly. There was enthusiastic and grateful smiling, singing, dancing, swaying, some tasteful jumping here and there. But most importantly, the energy in the room was positive and respectful.
About halfway through her set, I heard a shrill cry that beautifully articulated what I thought of Arlo Parks and her performance. 
"Ugh! She's so cute!" The woman behind me unknowingly yelled directly into my left ear. I turned around to face her, 
"Dude, she's absolutely adorable!" I concurred, maybe a little too loudly.
Looking back, that was the best moment of the night. There's something so beautiful in momentary, large-scale mutual appreciation for an artist. 
Upon completing her ten-song set, Arlo Parks offered her thank yous — leaving us buzzing, craving more. In an unexpected emotional reversal, I was genuinely excited for Clairo. 
Even without a direct view, it's always easy to tell when the headliner appears because the muffled house music abruptly stops and everyone screams in unison. It was no different when Clairo and her band, all wearing matching suits, made their way onto the stage headed straight for their respective instruments. Opening with Bambi, a sort of jazzy ballad from "Sling," Clairo veered from maintaining its melodic, piano-centric sound, and instead performed it with full band accompaniment. Initially, it seemed as if all that excitement and energy from Arlo Parks seamlessly transitioned into the Clairo show and would be released through heavily amplified electric guitars, the rhythmic thrashing of drums, and a screaming crowd. Slightly intoxicated by both my $12 Miller Lite and enjoyment of the music, for the first three songs of her set, I had a stupid, childish grin plastered on my face, and would turn to my friend and shout, "She's so good!" or "Oh my god, am I a Clairo fan now?!" or I'd politely exclaim, "She's so hot!" 
"I'm having the best time!" I'd scream, and I really was. 
By the fourth song, however, there was a shift in sound, a shift that almost mimicked the sonic evolution made from "Immunity" to "Sling," and it had a noticeable impact on the crowd.  
As defined by Jim Charlotte on Urban Dictionary, bedroom pop is a DIY indie music genre that is "characterized by its lo-fi quality and often contemplative lyrics." Those who produce music under the title, bedroom pop, typically do so from their home, specifically their bedroom, hence the origin of the name. Claire Cottrill, best known by her artist name, Clairo, began her music career as a bedroom pop artist by uploading YouTube videos of herself singing. While she gained mild popularity from some of those early uploads, it wasn't until the summer of 2017 that one of her videos, a song called "Pretty Girl" went viral. The video, which now has over 81,000,000 views, is nothing more than a cute, charismatic teenage girl sitting in front of a MacBook camera with earbuds in while she lip-syncs and dances to an original song that was very clearly recorded at home. In its simplicity, the video appears to be the product of teenage boredom on a summer afternoon. The success of "Pretty Girl" was such that in 2019, Clairo released her first full-length album, "Immunity," which features the TikTok popularized song "Sofia."
Unsurprisingly, being a young woman in the music industry comes with its cons. For some female artists, it's being patronized and chastised by critics and fellow musicians for writing songs about romantic endeavors and any ensuing heartbreak. For others, it's hypersexualization that arises from an archaic double standard. For Clairo, it's the rumor that she's an industry plant, which began about a year after the release of "Immunity." For clarity, because I had no idea what it actually meant until I started writing this essay, an industry plant is someone whose celebrity appears to be based solely on talent but has a family member or close connection within the music industry who may assist, usually financially, in garnering fame. Clairo's father, Geoff Cottrill, coincidentally served as one of the founding executives behind the recording studio, Rubber Tracks, in Brooklyn and has made quite a name for himself in the marketing world as the Chief Marketing Officer and General Manager of Converse. Ever since the pretentious Reddit trolls of r/indie got ahold of this seemingly innocuous information, Clairo's reputation as a musician has been remarkably stained. 
If the music is good, though, who the fuck cares if she's an industry plant?
Part of what makes her second release, "Sling," objectively worthy of praise is the clear genre shift used as a means to make a name for herself as a versatile musician in an industry obsessed with labels and exhausting continuity. As stated in an album review by "The Line of Best Fit," "while the cosy acoustic folk of "Sling" is indebted to her influences — Joni Mitchell, Carole King, the Carpenters — Cottrill makes it wholly her own; it's the perfect habitat for her introspection." This tender exposition of introspection is also the perfect habitat for breeding the most disrespectful crowd of concert-goers I've ever had the displeasure of experiencing. 
Before the show, my friend had warned me that once Clairo begins playing her less popular songs, those newer, quieter tracks from "Sling," the crowd would likely start talking over her, as that was a common complaint shared by fans after seeing her live. 
She was absolutely right.
As soon as Clairo shed her electric guitar in exchange for a seat on the piano bench, around the 4th song of a 21 song set, voices emanating throughout the venue began competing with the soft-spoken performer. If it wasn't a gaggle of obnoxious 17-year-olds aggressively making out and declaring who'd they rather sleep with on stage, the saxophone player or the clarinet player, it was a severely inebriated man screaming, during a song about female homosexuality, "You're hot! Take your top off!" All while Clairo patiently continued playing for the small minority of fans who knew how to behave in a public setting.
When attending concerts, there's an unspoken understanding that the crowd holds some responsibility for the success or failure of a live show. A musician will look to the crowd to feed on and match their energy while performing. In September 2021, I saw Julien Baker at the 9:30 club in D.C., my first concert since quarantine, and that crowd was so enthusiastic and grateful, celebratory and respectful, considerate and appreciative. There was a moment during the Julien Baker show where she prefaced a song with something along the lines of, "You guys can sing this one with me if you know the words, but don't feel obligated to do so," and although this was a solo electric guitar moment, certainly quieter than with a full band, the venue rattled with the reverb of our voices as we screamed each line with her. When the song finished with such emotion and power, products of our gratitude to be experiencing live music again, she turned into her microphone and uttered in appreciative disbelief, "holy crap, guys!"
Nothing like that happened at Clairo.    
As cliche as the saying is, when it comes to live shows, the band New Radicals said it best with their 1998 track, "You Get What You Give."
The inconsiderate conversations held while Clairo was performing swept through the venue like wildfire, engulfing everything in its path. At one point, a conversation being held immediately to my right was so loud and distracting from the music, that I turned around to face the group of kids and asked if they could please be quiet or move somewhere else. Fortunately for me, they picked the latter. Unfortunately, I'm sure the disrespect continued. Towards the end of the show, it was abundantly clear Clairo was frustrated that few were paying attention to her set, and those who were paying any semblance of attention consistently shouted expletives and song titles at her while she sang. 
"Okay guys," she announced, flustered. "I have a couple more songs for you. The two songs you all have been shouting at me to play all night." Her tone indicated exasperation. 
Admittedly, those final two songs, "Pretty Girl" and "Sofia" were the most enjoyable, as most of the crowd undoubtedly came just to hear them, but it begs the question, how can we expect our favorite artists to grow and evolve if we, as their fans, confine them to the success of their early releases and popular singles? 
I am not a Clairo fan and likely never will be, but I wondered whether seeing one of her live shows would change my opinion of her for better or worse. While the show neither made me an adoring supporter nor a vehement hater, I did realize something unexpected. I feel bad for Clairo. 
On the drive home from the show, I felt compelled to direct message her on Instagram, something I would usually never do, to apologize on behalf of Norfolk.
I wrote, 
"Hey, I understand that the likelihood of you seeing this is slim to none, but I just saw your show at the NorVa in Norfolk and I'd like to apologize for the shitty crowd of teenagers (and drunk men) who rudely talked over your set and shouted expletives at you. You were lovely to see live and very patient, thank you for coming to Norfolk. I hope the rest of your tour goes well. Thank you again."
 The apology, which is how I concluded my evening with Clairo, feels like a satisfying conclusion to this lament as well.
Leave a Comment