"Taking Measure" Talkback: Was the Conversation of Race Left Out?
ODURep's "Taking Measure" held a talkback on Thursday night, opening a dialogue about the show's controversial theme of sexual misconduct in the classroom.
Just one week after opening night, moderator Brittney Harris, assistant professor of theatre arts, met with panelists Chris Hanna, Ariana Wright, and Amanda Petersen to discuss the tougher themes of "Taking Measure" in their talkback–or post-show discussion– titled, "#MeToo in the Classroom: When and How Do We Say No?" 
The one-act play–written and directed by Hanna– ran for two weeks at Goode Theatre on Monarch Way, attracting a diverse audience to match its diverse cast. An introductory monologue delivered by the lead, Mya Correa, told the story of a young college student seeking paternal validation in lieu of her father's absence. After a handful of uncomfortable exchanges and one tentative kiss, she elects to keep her ambivalent relationship with her English professor–mostly– secret. But word of their indecency spreads to the school's Title IX office, and she's forced to make the difficult choice of denying the incident to protect his reputation; a choice that the audience would dwell on long after curtain call. 
With so many questions left unanswered, it's no surprise that a talkback felt necessary to comment on the more controversial aspects of the production. It would be remiss to brush aside the play's central theme: the movement against sexual abuse and harrassment. Interactions similar to what the show's lead experienced are all too familiar for too many individuals, and the fear which silences so many victims can no longer be a taboo if real change is to occur.  
"I wanted to give us a place to dialogue about some tough stuff," Harris began. "The #MeToo movement has started conversations, provoked new thinking and sparked societal change regarding sexual assault and harrassment. It's provocative. It's scary. It's empowering. Why? Because it's a reality."
Several questions were posed at both Petersen, an assistant professor in the department of sociology and criminal justice, and Wright, interim assistant vice president for institutional equity and diversity, that delved deeply into the blurred boundaries of student/professor power dynamics and the emotional connections often produced from them. 
But missing from the conversation was an opportunity for Petersen to pull from their prowess: the nuances of racial inequality. The unequal power dynamic between Correa, a woman of color, and her white counterpart, Curtis Betourne, established an element of racial tension that should have been addressed, yet never was.
Teaching and researching at Old Dominion University for the last two years, Petersen brought to the panel an exhaustive knowledge of racial injustice but rarely had the opportunity to apply it to "Taking Measure" as the topic of race barely extended past one question – and it was directed solely at Hanna.
"As you watch this show, there are many optics that you see, and race is one of them," Harris noted. "When you were initially developing the characters and narratives for this show, was race a considering factor as it pertains to developing each character? Or was that a dynamic that revealed itself through casting?"
He responded, "I wrote the play without any distinction of race. I obviously had to be sensitive to that in casting… I couldn't go into it racially blind. But that was not part of my writing of the story."
Hanna is not alone in his consideration of race while searching for talents to audition. Those operating in the realm of theatre arts are rarely blind to color when it comes to casting, notably because women of color are rarely selected as leads. Though Hanna has conveyed that his writing process lacked a specific muse, it's undeniable that the dynamic between leads Correa and Betourne would require altering because of the racial element introduced in their casting. 
As Petersen mentioned, "I just think there's a lack of a broader conversation about consent and power."
The power difference between white men and women of color is historically profound. Because of this disparity, Black women are consistently positioned to question the value of their voices. Michelle Osborne of YWCA writes that "Women of color get different messages about the worth of their voices and the consequences of speaking out… The #MeToo movement created a worldwide cultural shift. Originally founded by Tarana Burke, an African American woman, the movement was created to give women and men survivors of sexual harm a voice to speak out against sexual violence." 
Adrienne C. Macki notes that while, "activist community-based theatres that employ theatre as a transformative space [can] promote conversation, healing, equity, and action. Simultaneously, white institutions, white leadership, and white audiences must listen and be vigilant while working towards understanding as well as acknowledging their privilege."
This struggle for equity plays a prominent role in YWCA and the #MeToo movement, both of whom promote the empowerment of Black women by allowing them the space to come forward against their abusers. Because of Hanna's casting choices–and desire to expand the #MeToo dialogue– it was unfortunate that neither the play nor the talkback took advantage of highlighting this nuanced aspect of the conversation. 
Perhaps it was the lead's denial of the incident and her unwillingness to speak out against her professor that emphasized the issue at hand: victims are too often silent. Regardless, such a revelation was missing from Thursday's talkback, and its absence was undeniably felt.
Leave a Comment
About the Contributor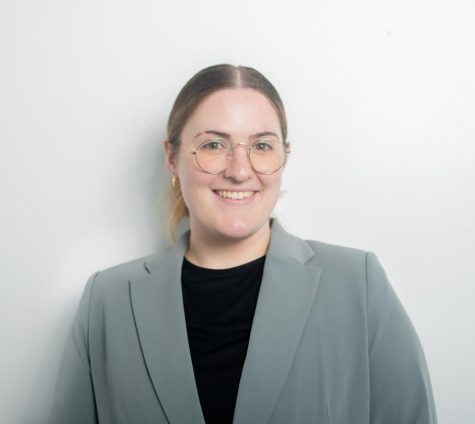 Dana Chesser, Arts and Entertainment Editor
Dana Chesser (She/Her) is an English/Journalism major and second-semester writer for the Mace & Crown. Alongside her role as A&E Editor, she works...