Governor Youngkin Attacks High Schooler on Twitter
Over the past few days, Gov. Youngkin has been embroiled in a Twitter war with a 17-year-old Virginia high schooler, Ethan Lynne. Gov. Youngkin's official campaign account published a tweet mocking the teenager, but the Governor later backtracked by calling it "unauthorized".  
The original tweet that kicked everything off occurred on Saturday, 5 Feb., when Ethan Lynne retweeted a report by a Richmond public radio station VPM.  The report claimed Youngkin was suppressing efforts to highlight the history of slavery within the Governor's mansion.
Virginia's two previous governors, Northam and McAuliffe, had initiated programs to help shine the spotlight on the sordid history of the mansion.  In the end, the original report by VPM was erroneous and they issued a correction, which Lynne also noted.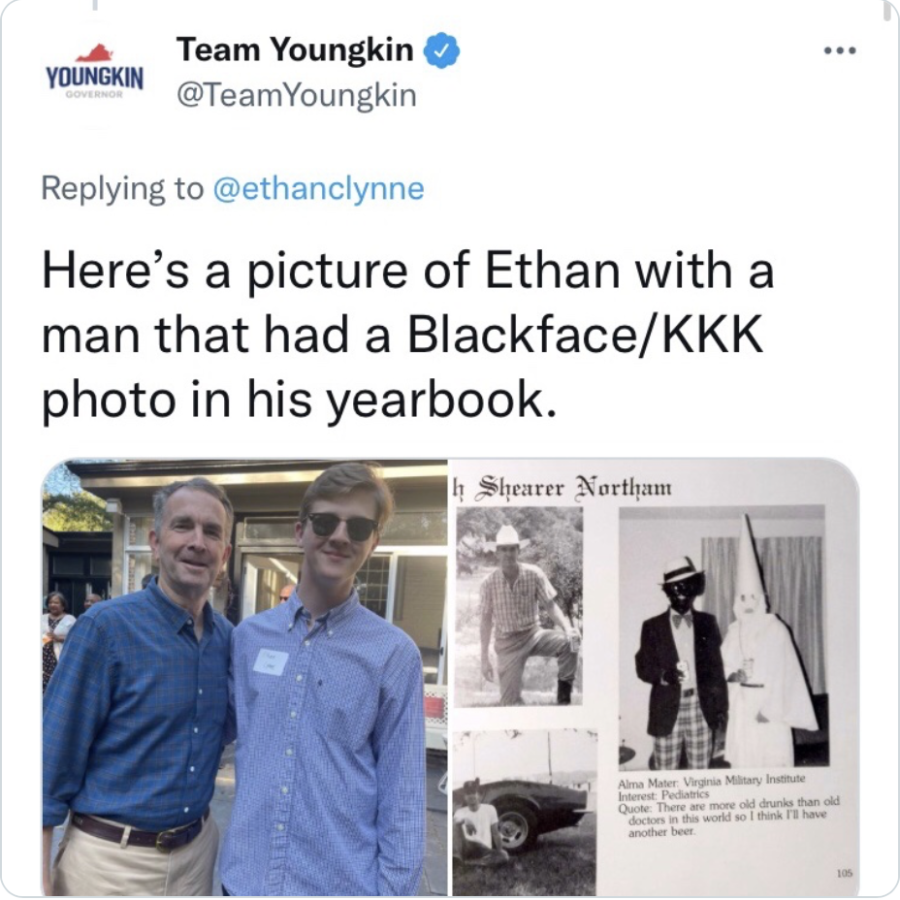 However, by this time, Gov. Youngkin's official campaign account had gone after Lynne, tweeting a photo of him with Governor Northam that had been taken in October at a Democratic fundraiser. "Here's a picture of Ethan with a man that had a Blackface/KKK photo in his yearbook," read the caption from Youngkin's Tweet when @TeamYoungkin posted around 5 p.m. on Saturday. 
The entire exchange drew immediate fire from Democrats who demanded Gov. Youngkin apologize to Lynne.  
ODU students also don't seem to be viewing the interaction positively. 
"I just think it's childish," said Matthew Farmer, ODU senior. "You know, I feel like regardless of what you think about him as a governor, he … and his entire team should be focused on the state and running it rather than going after such small fish in the pond as it were. I feel like this kid, his time could be spent better focusing on other things. I don't think this one kid is going to bring down people's opinion of him [Youngkin]. I feel like it's just a bit childish overall."
ODU Alumni Randy Heard felt much the same way. 
"
It sounds immature," said Heard, " I'm a supporter of Youngkin but those types of things don't need to be happening. Engaging with a 17 year old's posts is not the wisest thing to be doing.  And it's never going to work out well for any politician to engage in that type of behavior.  I think we saw with the last administration that staying off Twitter is probably the best thing.
— Randy Heard
The tweet was eventually deleted by Gov. Youngkin's official Twitter, but no apology was issued.  Instead, Gov. Youngkin posted about it on his personal account: 
"On Saturday night, an unauthorized tweet came from a campaign account. I regret that this happened and it shouldn't have. I have addressed it with my team.  We must continue to work together to bring Virginians together. There is so much more that unites us than divides us."