ODU Entrepreneur Encourages Makeup Artists to Chase Their Passions
It was late 2019 when Nyla Jones, ODU senior, launched her business. And unlike many small businesses impacted by COVID-19, business is booming and the Chanell Brand has only grown since its conception.
Jones began playing with makeup as a child, but got more serious during her freshman year at ODU when she helped her friends do their makeup for events. She posted photos of the completed looks to her Instagram account, and shortly after began having her inbox flooded with requests from women wanting her to help them get ready. Shortly before homecoming of 2019, Jones realized that she may be able to turn a profit operating as a makeup artist, and created the Chanell Brand. 
She first started on her personal Instagram page, having people DM her to book appointments. Then, she made a dedicated makeup page. When she was thinking about the brand name, she decided to go with the "Chanell Brand" because Chanell is her middle name. "My mom was like 'you're a brand, so just do that,'" Jones said. 
She then progressed to posting prices on her MUA Instagram page, and began selling lashes, before creating a booking website.     
When she first started, her prices fluctuated between the $20 – $25 range. Now, after three years of being in business, her prices start at $55 for makeup appointments (she also does consultations) and go up to $135 for on-site makeup at photo shoots. She does events like homecoming, as well as bridal makeup, and even offers mannequin makeovers. Jones has also started a side business selling lashes.  
"I went from like five followers, to now I have 512, and I'm very excited about that because at one point I felt like I wasn't getting any new followers," said Jones. "I felt like I was getting stagnant and I would get discouraged and I would want to quit. But then I [realized] I have to be more consistent, I have to put out more content, I have to make myself uncomfortable so I can get to where I need to be and that's … where I am now. Taking risks, and just making myself uncomfortable in the industry because I know that's what I have to do to grow and get to where I need to be." 
Jayla Deberry is a regular customer of the Chanell Brand, who found the Chanell Brand when she needed to get her makeup done for her birthday, and for homecoming. 
"
I have to make myself uncomfortable so I can get to where I need to be and that's … where I am now. Taking risks, and just making myself uncomfortable in the industry because I know that's what I have to do to grow and get to where I need to be.
— Nyla Jones
"I try to find any reason to go to the Chanell brand, honestly," Deberry said. "After the first experience I went to her for homecoming, and she was just so sweet… And she works with you, while she does your makeup she'll let you know the products and things that she uses so you can get it for yourself. So it's not like 'I'm doing your makeup, but I'm not going to help you, because I want you to keep coming back so I can get your money.' She actually cares." 
"Being a person of darker complexion it's harder to find someone who can do good makeup. So once I did find the Chanell Brand … and I saw how [good] she was, I kinda just stuck to her," Deberry said. "I love what [the Chanell Brand] stands for. …I promote her brand all the time. I see people on Twitter like 'hey, does anybody know any good makeup artists in the 757?' I'm like: the Chanell Brand, like, hello."   
Jones is graduating in May, after which she plans to move to Atlanta.
"I'm nervous because I have so many clients here, I have so many things that I'm doing here and I've made so many different connections here," Jones said. "And… in just two to three months I'm going to be relocating so it's kind of like I'll have to start from scratch. And it's not just on a college campus, I'm actually going to be on my own. It's kind of a rebirth in a way."
Ultimately, Jones wants aspiring makeup artists to chase their passion. 
"…Never give up on what you're passionate about. Because, you know, I know for me I was very discouraged, there were many times where I wanted to quit. Like, I just wanted to throw in the towel. But I never gave up and I still feel that way sometimes but I would never give up on this because this is my passion," said Jones. "I can see myself going far in this industry. … I just want other people who may be coming up as makeup artists, who started out just like me. There are going to be trials and tribulations and everything is like that, but I just want to let them know, don't give up. Keep going. Because there's a lot out here that you have yet to see. And there's a lot of rooms that you have yet to be in. I just want people to chase their dreams, chase what they're passionate about."
Leave a Comment
About the Contributor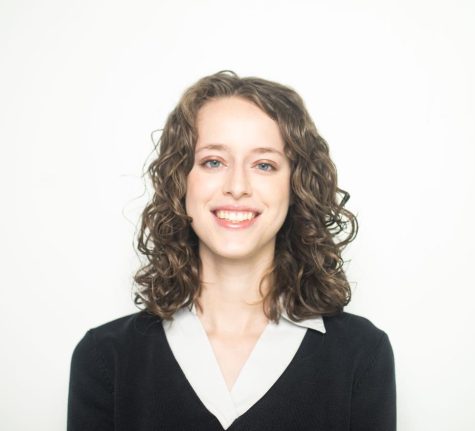 Sydney Haulenbeek, Editor in Chief
Sydney Haulenbeek is an English major and senior, graduating in May of 2023. Before becoming the Editor in Chief of the Mace & Crown she worked as...