In the Presence of Royalty: Meet the Homecoming Court Candidates
Originally published October 11, 2021.
What does it take to be the face of ODU? Ten students from the Monarch community set off to find out as they ran for the spot of Homecoming Royalty Court this semester.
Homecoming for ODU means a time for current students and alumni to come together, to show school spirit, and to connect. This year is anticipated to be bigger and better than ever—even if only on a sentimental level, given as last year's homecoming was canceled due to the COVID-19 pandemic. The Royalty Court candidates definitely feel this excitement, as they prepare for a week-long series of events.
"This year, personally, is really just a re-unification for everyone," says senior marketing major candidate Demetré South, "Freshman right now—I wouldn't say they're lucky—but they're in a really great spot because they're going to see the rebuilding of the Monarch community. The Monarch community is really going to rise up more."
"We're coming back from a really hard time, and we're not back to normal yet—but this gives me a sense of normalcy." Agrees Caitlyn Kidd, a senior music major.
South decided to run for Royalty Court because he enjoys the opportunity to make an impression on others.
"When you talk to someone and they leave an impact on you and they don't even know it—I really like to instill that in people." South says COVID has affected him personally, "With COVID coming and taking away that big chunk of my college life I'm just eager to really talk more—to really do more than what I did my sophomore year or my freshman year."
"It's made me more motivated to get active on campus," says Anaiya Thornton, a senior digital marketing major, weighing in on her personal COVID journey.
Most candidates all had something in common—they felt they had grown tremendously during their time at ODU on both a personal and professional level.
"I started in my freshman year where I did not do anything. I was not in any clubs, I didn't really socialize with people," Bailey reflects on the more outgoing person she had become, "You can build yourself up to be that person."
The members of the court are extremely active in student involvement, from RA positions to Digital Monarch Ambassadors, Latino Student Alliance, National Society of Black Engineers, SGA, Ebony Impact Gospel Choir, Phi Eta Sigma, Sigma Gamma Rho and the Kappa Delta Sorority.
"I feel really fulfilled in life right now, so I don't really like to call it busy, but I'm helping myself." Da'Zha Loney, a junior exercise major, says on the number of extracurriculars she and her peers take on.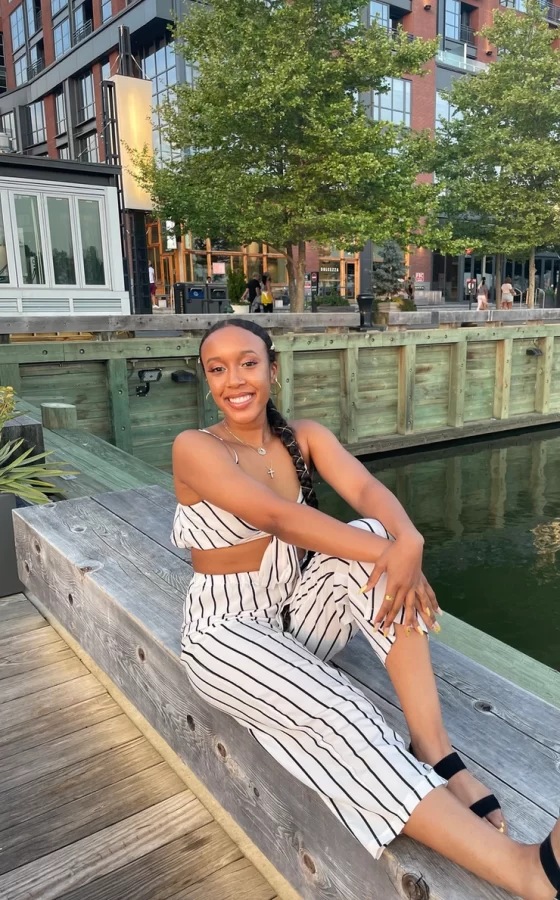 "I used to be really shy, not really because I didn't like speaking to people but [out of] kind of fear of judgment. And I feel like a lot of people maybe feel that same way," Loney describes gaining the skills she uses to connect with others, "You think just because somebody looks a certain way or because they're doing things that aren't really in line with what you're doing in life, you think that we're not—at the end of the day— we're not all just human. That we're not all just trying to connect and just be here for a wonderful experience to share with each other."
"When I think of ODU I don't think of one culture, I think of a lot of different people, a lot of different cultures, a lot of different interests all coming together," Emoni Eden-Clemons, senior finance major reflects.
"Because this is a diverse university," South agrees, "It's not too heavy on one race or gender or anything. So, when I come across any race you can think of, it's like I don't really have to change up how I'm talking."
"Only my university can have that." South states with pride.
"We are diverse, we are accepting, we are unique." Eden-Clemons shares, defining what it means to her to be a Monarch, "I know when I leave ODU I'm not going to be the same person that I came in as."
The Royalty Court candidates shared that every candidate has different ways of focusing on advocacy and expanding on what sets them apart. Carlos Hutcherson, a senior political science major, shared his major concern is student safety. For Loney, it's a platform for wellness, health, and mental health. For Kidd and Thorton, it is providing better programs and outreach to all students, but especially freshman and sophomores.
Competition amongst the candidates remains friendly, even though for some, this is their second shot at the crown.
"I've kind of had my eyes set on this position, probably since I was a freshman honestly," says Hutcherson, sharing this is his second time running, as he considers this his 'redemption year.'
"Nya, Carlos, Ashley, Caitlin—like it's so many names I could come up with off the top of my head that I've really been friends with since freshman year" South shares, "So, we've been having these talks about—you know 'when we get to senior year, we're going to run for homecoming' and we all made it."
"I'm just here to have fun." says Jorge Zamudio, a senior mechanical engineering major."I want to enjoy my last year and go all the way."
Students are able to vote for the 2021 Royalty Court using the Homecoming Royalty Court Election Site. Voting closes on Oct. 14 at 5 p.m.